CWD : 23rd February 2019
Last Sunday we had our double header with the early trail run at Kinross Forest followed by the Lake Canbobolas run at 9am. For the 7km short course at Kinross, Dave Ross was first home in a time of 34:53, followed by our newest member Dylan Channon in a time of 48 minutes. Anna Daintith was the first lade home in a bit over an hour. In the long course, it was Sam Collins (and kelpies) first home right on the hour, very closely followed by Rikky Bangert and Joel Broadfoot. Alison Spurway lead the charge of the ladies in 1:18:31 just ahead of Luisa Sims.
Lake Canobolas looked a picture as members enjoyed the choice of 1 to 4 laps around it. Congratulations to Hayden Bolton who was the handicap winner. Congratulations to Michael O'Mara who was presented his 50 run achievement medal.
It was a trifecta of Bangert's in the male 2.5k with Rikky (9.59) beating home brother Elliot and dad Fred. But it was the ladies that split them up with Abigail Francis (11:35) followed by Liz Simpson and young Grace Hosie in 3rd placing. In the 5km, Amber Rich beat all comers home in a time of 23:02. Then it was a close run finish between Hughie Corcoran, Jack Daintith and Alistair "Kiwi" Merrifield. The pocket rocket Milla Jurd was 2nd female ahead of Annabelle Hosie. Hugh Daintith (38.20) was the first across the line in the 7.5k ahead of Karen Neal (39.35) and Kelly Gleeson. There were a few backing up from the trail run in the 10k with Tim Murphy (47.07) first, just ahead of Leanne Corcoran and Anthony Daintith.
Another sensational turnout on Wednesday afternoon at Elephant Park (must all be in training for next weeks Orange Running Festival). Presentations were made to Kate Thornton (75 runs), Andrew McCauley (100 runs) and Patrick Hakkinen
(100) for their club run achievements. Congratulations to Sarah Ulrich who was the handicap winner. There were 7 awesome PBs this week. Congratulations to Rikky Bangert (13s), Nathan Sutherland (5s), Julie Tooth (15s), Sarah Ulrich (1:28), Jeremy Curtin (21s), Sam Gross (20s) and Ryan Clark (28s).
It was pretty hot at the head of the pack today with Mitch Williamson tearing up the track completing the 3 laps in 8:47! Nathan Sutherland (9:36) and Rikky Bangert (10:06) rounding off the top 3. Leanne Corcoran was ever consistent being first lady home in 11:44 ahead of Carissa Hickey 11.59 and Ella Lamrock 12:46.
Sundays run is at Stagecoach Road with 2k, 3k, 5k, 8k and 12k options to choose from.
The Orange Running Festival is now only 1 week away! Registrations are going really well (nearly 1200 entrants). Please encourage your family, friends and workmates to enter as well.
Plenty of race options for the whole family – 2km, 5km, 10km, half marathon and marathon. Register online at the festival website (www.orangerunningfestival.com.au).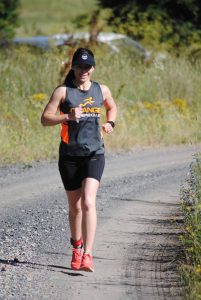 Photo of Leanne Corcoran – consistently our leading female runner