CWD : 30th March 2019
Great morning out at Forest Reefs last Sunday with Basil and Jean Baldwin hosting the run on their Burrawang property.  Thankyou to Club members who supported the morning tea put on by the James Sheahan school kids for their Sri Lankan mission and those that enjoyed the tour of the Hazelnut farm. Congratulations to Grace Hosie who was the handicap winner running the 5k is a time of 29:14!
Behind the lead ute, it was Lachie Ross who prevailed in the 3k in a time of 13:12 ahead of Jai Anlezark and Jack Daintith. Simone Fogarty was the first over the line in a time of 18:32, ahead of Claire Anlezark and Sarah Hyde.
It was Hugh Daintith a big winner in the 5k in a time of 24:39, ahead of Kim Anlezark 28.44 and Michael Halls 35.02. Grace Hosie was the first lady home in the 5k with a fantastic time of 29:14. Tanya Connolly is obviously in love with running at the moment with the corresponding increase in distance was 2nd in 32:09 ahead of the recovering Lyn O'Mara in 3rd.
Belinda McCauley took out the ladies 8k in a very smart time of 46.52, just ahead of Kate Thornton 47.48 and Annabelle Hosie 48.02. Todd McGilvary in his very first run with the Club was first gent home in a time of 38:35. Big congratulations to young Blake Gleeson who was 2nd in 39.57. Apparently because Tanya is running longer, John Connolly has also had to step up the distance finishing in 3rd place!  The mostly pleasing aspect of the 8k was that there were 5 boys 12 or under who finished – Blake, Charlie, Tom, Flynn and Hayden – awesome effort today!
In the 11.5k, long distance specialist Carissa Hickey was first place with a time of 56.30, just ahead of Alicia Ross 58.05 and Alison Spurway in third. Welcome to the club Rosemary Elkington who ran her first run with a 1:18:30.  Anthony Daintith was first home in the men with a time of 50:47. Ian Spurway (52.43) was second ahead Michael Kennard (55.30) in third. Special mention to Daryl Roweth who ran out to the run from town and then completed the run in 1:04:20. Also welcome to Richard Hogg who completed his first run.
Another huge turnout of 98 runners ran around Elephant Park on Wednesday afternoon.  Presentation were made to the following members prior to the run – Hayden and Oliver Hyde 25 runs, Jai Anlezark 50 runs, Flynn Thornton 75 runs, Kelly Gleeson 75 runs and Anna Daintith 600 runs.
Our handicap winner was Oliver Hyde who ran the 3 laps in 19.13.  PBs this week were recorded by Belinda McCauley (1 sec), Beck Halls (10s), Carol Moss (16sec), Rhonda Jones (17s), Verity O'Brien (2min 14s), Caroline Hazelton (40s), Marie Regan (46sec), Lucy Jurd (1min 2 sec), Wendy Chapman (34 sec) and Noah Chapman (41 sec).
Placegetters this week:
Female:
1. Leanne Corcoran 11.24
2. Alicia Ross 11.49
3. Carissa Hickey 12.16
Male:
1. Iain McLean 11.03
2. Brad Simmons 11.20
3. Anthony Daintith 11.26
Tomorrow is the Great Volcanic Mountain Challenge.  The 11km race is at 9am and the family friendly 5km race is at 9:30am.  Good luck!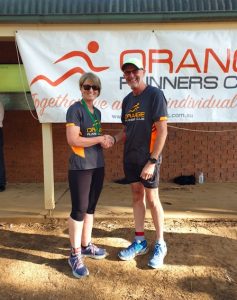 Photo of Anna Daintith being presented with her 600 run medal by Club Vice President Greg Shapter.