CWD : 11th August 2018
The Club's 40th Anniversary celebration dinner is fast approaching. We are looking forward to having our current and past members and their families join us for a great night at Duntryleague Golf Club on 1 September. Don't miss out on a ticket to a great night. RSVP by 22 August 2018 to Judy Tarleton or orangerunnersclub@outlook.com or see our Facebook page for the registernow link.
Last Sunday at Elephant Park it was nice to see Bec Halls pick up the overall win, well done Mrs Halls.  Members had a number of different distances to choose from with Graham Fahey and Claire and Katie Wright taking out the 1.6km – well done Claire in your first run with the club! Its lucky mum is running so well to keep up with you! We hope to see more of you on Sundays.
Well done Amber Rich and Hugh Corcoran for leading the 3.2km home in a strong field. A few more tackled the 4.8km with Hugh and Anna Daintith making it look very easy but deserving of their wins following their impressive commitment to training and regular runs with the Club.  Liz Simpson took out the 6.4km ahead of Greg Thornton while consistent Noah Lamrock was first across the line in the 8km with Kate Harris the first female ahead of the injured Leanne C. David Hunter is looking good for the upcoming Gold Coast Tri event completing the 9.6km in a fast 38.05 while Kimmy and Jane kpt chatting while rounding out the longer distance.
On a cooler Wednesday 87 members took the opportunity with the flexible start time to get in their 3 laps with Luisa Sims the overall winner. Joel Broadfoot (PB) and Jessie Dean were the fastest home in very tidy times. Congratulations Mel Bolton on 50 runs as well as a PB.  Other PBs were recorded by Sereena Hughes, Kim Anlezark and Kelly Jurd.
Good luck to those heading to Sydney for the City to Surf on the weekend which starts the run of running festivals ORC traditionally well attends. Mudgee is next on 19 August and is always a good weekend, albeit freezing. I hear there are still some cabins available in Dubbo for the Dubbo Stampede weekend of 26 August and then with spring we have Sydney Blackmores and the Bathurst Edgell Jog. Some motivation to keep us training on these colder August days.
See you on Sunday on the hill at Stagecoach Road – check out the website for directions.
Orange Runners Club 40th Anniversary Details
Date: 1 September
Where: Duntryleague Golf Club
Cost: $45 includes 3 course meal
Time: 630 for 7pm
RSVP: 22 August 2018 to Judy Tarleton or orangerunnersclub@outlook.com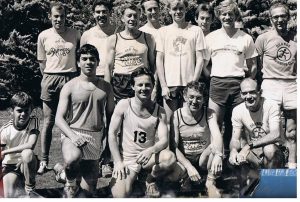 Turn back time: Some of the original Orange Runners Club members