CWD : 4th August 2018
Last weekend's City to Surf regional training certainly inspired Club members and newcomers.
100 of us practised our new skills at Gosling Creek on Sunday.
In the 2.3km Amber Rich led them home  followed by Pip Martin and Angela Harrison while it was all Team Bangert in the men's with Rikky, Elliot and Fred taking the top 3 placings. Leanne Corcoran took the 4.6km from Alison Spurway and Janet Martin (and friend). Cameron Harris beat brother Lachie, Steve Martin and Hughie Daintith to take out 1st in the men's 4.6km. Carissa Hickey, Anna Daintith and Rhonda Jones all tackled the 8km while another appearance from Brad Simmons saw him fly home just ahead of Tristan Harrison with Joel Kitto 3rd. Many took on the challenge of the new 11.5km course which was won by Alicia Ross ahead of Ursula and Cindy Munn while David Hunter nudged out Lightning McLean and AD. Speedy Spurway was the overall winner. Well done to all and thanks to Anthony and the Committee for a great weekend of running. We look forward to seeing more of those newcomers that joined us on Sunday at our regular runs.
I think most of the newies did return on Wednesday, with car parking on Moulder Street on Wednesday night at a premium with 117 of us doing laps of Elephant Park. The flexible start times is enabling more of us to get a run in.
The new skills paid off, with 13 members achieving new PBs. Congratulations to those 13 including Noah Lamrock (10.44) Anna Daintith (15.39) Melissa Smith (17.04) and Annabelle Hosie, who was also the handicap winner on the night (15.11).
Noah was also the first across the line, with Anthony and Iain hot on his heels. Carissa Hickey was the first female home in 12.18 followed by Liz Simpson and Ella Lamrock. A number of achievement medals were awarded including Tom, Annabelle and Grace Hosie (25 runs), Bec Kenneddy (25 runs) and Kelly Gleeson (50 runs). Also great to see the other Dean clan back with us on Wednesday with Maeve and Billy achieving 75 club runs. Fast times on the track by Bradley Tyack recently back from conquering Kokoda, (16.21), Pammy and Red Dog (16.04), Renai McArdle (14.59) and Billy Fairgrieve (15.29). Must have been all that extra strength training in the garden last week Billy. Hope Jane has some more tree moving jobs on her list.
Don't forget to book your tickets for the 40th Anniversary Celebration to be held at Duntryleague on 1 September. See Anthony or Judy for more information or the registernow link via the Club FB page. Some great photos coming out of the archive, we look forward to seeing many past and present members at this great occasion.
See you at on Sunday at Kinross Forest (trail run 645am with new 5km option) and/or Elephant Park at 9am, unless you're heading to the Sydney boat show with Steve W.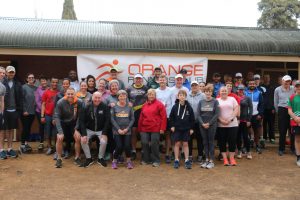 Photo of City to Surf skills training at Elephant Park Saturday afternoon