CWD : 28th July 2018
A big weekend of running ahead! City to Surf regional training will kick off with a free skills session at Elephant Park 3pm Saturday 28 July. Then all are welcome to join the ORC Sunday run at 9am at Gosling Creek to put those new skills to practice. New distances will be on offer to prep those legs for Heartbreak Hill.
Last Sunday's run was perfect C2sS training at the ever popular Bulgas Road with members tackling the never ending hills home. Some forgot to stop, with Coop (19km), Leanne (38km) and Daryl and Ursula putting in extra training to and from the course just for fun. Leanne and Ursula were also the only females to tackle the 14km. Congratulations to the 3Ks Kietta-Raye, Katie Wright and Kimmy J for dominating in the 10km, a massive effort. Newcomer Kylie Duncan took the win from longtime members Jane Fairgrieve and Melissa Fogarty in the 5km while Amber Rich beat Sophie Martin and Milla Jurd in the 3km.
Brad Simmons was the only man to take up the 14 km challenge, with Joel Kitto taking the 10km line honours from Ed MacLean and Richard Eggleston. Good to see Alex Irwin back in the 10km mix as well. OHS's Michael Kennard was a late start in the 5km but on time beat out Connolly and Shapter. Michael could lead the always competitive OHS in the Schools Challenge at the March 2019 Running Festival if he keeps running like that.
We spotted a nice pair of new runners on Steve Wensley running the 5km – not sure if they will fix the knee Steve but you certainly look the part.
Winner overall Hugh Corcoran easily won the 3km from Coop and Tony Fitzpatrick.
Meanwhile at Wellington's Mt Arthur the Ross family dominated events with Lachlan and Alicia winners of the 5km Wallaby Run. Congratulations to the other participants Cameron Ross, Hugh and Anna Daintith, Lily and Chloe Broughton and Sharon Fahey.
16 members took on the 9km Wedgetail Challenge, with Iain McClean, Dave Ross, Anthony Daintith, Alison Spurway, Alison Broughton Renai McArdle leading the ORC team home.
On Wednesday we welcomed back the UK hopping tourists the McLeans, with Iain giving Anthony D a challenge and Sam Collins coming in a close third. No doubt Lightning will pick up speed once the jetlag wears off so don't get too comfortable AD. Leanne, Alicia Ross and Ella Lamrock flew around the park to take out the women's, glad the injuries are improving Ella.
Congratulations to those that achieved PBs including Rhonda Jones, who was also the winner, Melissa Smith, Linda Corben, Jim and Jai Anlezark, Sam Collins and Katie Wright, who improved an impressive 1.04.
While you are registering for all the upcoming running events like C2S, Dubbo Stampede and Mudgee, get on registernow and book your tickets for the Big 40th Anniversary Celebration to be held at Duntryleague on 1 September. See Anthony or Judy for more information. I hear Maree Moss is so keen to celebrate with former members of the club she is giving up Noosa to be there – so it is obviously not to be missed!
See you Saturday 3pm at Elephant Park.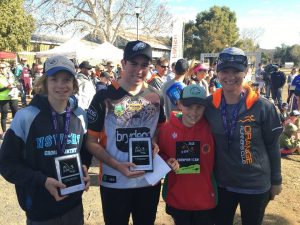 Lachlan Ross, Hugh Daintith, Cameron Ross and Alicia Ross, Mt Arthur Challenge