CWD : 21st July 2018
Late change to this Sunday's run – we are at Bulgas Road for a 9am start. Everyone's favourite!
Well done to all those who made the scenic trek to Favell Road via Byng last Sunday on what was one of Orange's coldest mornings this winter. The picturesque setting inspired many to tackle the longer distances, despite the hills. Sunday results:
3km
Female: Ella Lamrock, Madison Bolton, Denise Quinlan
Male: Cameron Ross, Lachlan Duncan, Nick Bolton
5.8km
Female: Stacey Neville, Joy Harvey, Kinisha Roweth
Male:  Gary Taylor, James MacNeil, Brian Sharp
8.1km
Female: Alicia Ross, Alison Spurway, Luisa Sims
Male: Brad Simmons, Noah Lamrock, Hugh Daintith
11.2km
Female: Alicia Anlezark Male: Anthony Daintith, Joel Broadfoot, Ian Spurway.
David Hunter was the winner. Park Run Director Brad Simmons missed the start but still went on to take home the 8.1km. A big shout out to teams Bolton and Duncan who pushed industrial looking prams up and down those hills!  That's medal worthy.
85 members trialled the new flexible start time on Wednesday which means members can complete their laps up until 545pm. Hopefully this enables 9-5 workers and those with afterschool sport to make the Wednesday run. The new start time trial didn't phase Leanne Corcoran who again took out the win on Wednesday in 11.37 while weeks (months?!) of walking baby Rory to sleep must have paid off for Liz Simpson as she wasn't too far behind Lee in a time of 11.46. Imagine what she could do with sleep! Let's hope Rory lets you get some soon Liz. Tim Murphy (10.47) took line honours from Anthony and Hugh who then practised their goal kicking, narrowly missing our esteemed Club Treasurer.
Congratulations to those that achieved PBs – Cameron Ross, Lily Broughton, Stacey Neville, Luisa Sims, Milla Jurd and Lucy Jurd.
The Club is proud to be bringing the City to Surf regional training runs to Orange on 28 & 29 July. Join Jim Owens, experienced level 4 Athletic Australia coach to take you through technique and training tips.  All runners in the region are welcome to a free skills session at Elephant Park 3pm 28 July, then join us for the ORC Sunday run 29 July at Gosling Creek to put those new skills to practice. Should be a great weekend.
We hope all members and former members have locked in 1 September for the Big 40th Anniversary Celebration to be held at Duntryleague. Get on to Anthony or Judy or go to registernow to get your tickets. Don't miss out on what is sure to be a memorable night.
Speaking of former members, we hear our own Chris Davis was knocked around last week on his bike. Take care Chris, we are thinking of you and hope you are on the mend.
Upcoming events for the calendars:
City to Surf 12 August
Mudgee Running Festival 19 August
Dubbo Stampede 26 August
ORC 40th anniversary dinner 1 September
Canberra Times Fun Run 23 September
Orange Running Festival 2 & 3 March 2019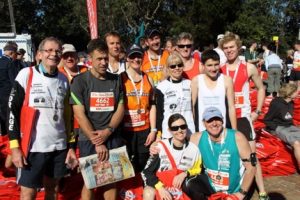 C2S training- ORC members participate at an earlier City to Surf