CWD : 14th July 2018
A late change to Sunday's run this week. Note it has moved and will now be held at Favell Road – see you all there for a 9am start.
Last Sunday's run was a test on many fronts being as it was a rainy freezing morning after some socialising at the Hotel Canobolas the night before. The pizza and red wine didn't hurt newcomer to the Club Michael O'Mara who took out the win. He might be on to something.
Congratulations Noah Lamrock on achieving 400 runs, what a milestone. Other results from the dedicated Sunday runners were:
2.5km Female Amber Rich, Ella Lamrock and Tanya Connolly.
2.5 Male Noah Lamrock, Mike Cooper, Adam Reeves
5km Female Joy Harvey, Mel Bolton, Rhonda Jones.
5km Male Hugh Daintith, Edward MacLean, John Connolly*.
7.5km Female Anna Daintith
7.5km Male Mitch Essex
10km Female Leanne Corcoran, Carissa Hickey, Kylie Duncan.
10km Male Anthony Daintith, Joel Kitto, Andrew McArdle.
*Sincere apologies to club stalwart John Connolly for allegedly ruining his reputation by referring to him as a 'rugby' player. I thought it might have been a compliment…but apparently not. Hope seeing your name up in lights this week makes up for it JC. If anyone has a pic of JC in his heyday we'd love to confirm it was in fact league and not the game they play in heaven.
Back to running, and Wednesday's cooler conditions suited Tim Murphy, knocking AD off top spot in a time of 10.38. We suspect he can go even faster than that. Leanne C again took out the females in an easy 11.27. Welcome back to some familiar faces who joined us on Wednesday – Matt and Estelle Dean and Stewart Vidler, good to have you back with us. Congratulations for PBs to the ever speedy Mel Bolton cracking the 17 minutes in 16.55, Milla Jurd  with a very impressive 12.52, Anthony Daintith in 10.55 and Kietta-Raye Shaw in 15.53 who was also the winner.
Tickets are now available for the event of the year – the Club's 40th Anniversary Dinner to be held 1 September at Duntryleague. We look forward to catching up with many former members to help us celebrate this great milestone. See the Facebook page, check your email for the registernow link or chat to Anthony or Judy. Remember Betts has promised me dancing so don't miss out on a ticket to what should be a great night. Please pass the details on to any former club members you see around town or those further afield.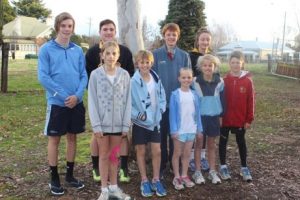 Turn back time: it would be great to see some of these faces at our 40th Anniversary Dinner on 1 September – Orange Runners' Club junior members in 2013 (back): Brandon Connolly, Kyle Ostini, Connor Whiteley, Lauren Kerwick; (front) Charlotte Simmons, Luka Milhalich, Ella Lamrock, Phoebe Litchfield, Courtney Chapman.