CWD : 7th July 2018
A nice bit of ice greeted 67 members at Bargwanna Road on Sunday. Congratulations to the Boucher boys who were presented with achievement medals for their 25 runs.
A certain ex rugby player has specifically requested we revert to publishing the top 1-3 placings, so to please our readers here they are:
3km
Female: Sarah Baker Amber Rich Ella Lamrock
Male: Tony Fitzpatrick Craig Penrose and Michael Sharp
5km
Female: Kylie Duncan Sue Betts Melissa Fogarty
Male:  Noah Lamrock Mitch Essex Jackson Boucher
10km
Female: Carissa Hickey Alison Broughton Kim Jarvis
Male: David Hunter Anthony Daintith Ian Spurway
It doesn't look like you were amongst the top placings at Sunday's run this week JC. Maybe next week. Mitch Essex was the overall winner on Sunday.
A big thank you to Michael Sharp for managing the timing on Sunday so we could have a run and for his time every Sunday afternoon compiling the results, we really appreciate it Michael.
Congratulations to those who ran the Gold Coast on the weekend. Team Corcoran blitzed it with Leanne completing the half marathon, Jamie (and personal trainer Karen Neal) also completing the half marathon, Rosie completing the 5km and Hughie finishing the 10km.
Other finishers included Rachel Wilkins and Tony Syme in the half marathon, and Lucky Wayne completing an easy 10km for him. Wayne was joined by Lyndall Molloy, Kristine MacLean and Kelly Jurd  while Ursula Wilson completed the marathon in an impressive 3:48:08.
On Wednesday we welcomed a keen new member (hopefully he'll come back!) who joined us for a photo shoot and the Club run. He also brought a significantly oversize cheque with him. It was Member for Orange Phil Donato presenting a cheque from the Local Grant Program for $3000 to the Club to assist with the Running Festival 2019. Congratulations to the Running Festival Committee and ORC Committee for securing these funds. We think you might have skipped 2 laps Mr Donato – you can make them up when you return next week!
Mitch Williamson, Rikky Bangert, Lachlan Ross were the first 3 males home to knock AD and Steve Martin off the top placings while Nicole Williamson, Sophie Martin and Carissa Hickey took home the female top 3 spots.
Congratulations to those that achieved PBs in the mild conditions including Anthony Daintith (somebody stop him!), Lachlan Ross (his fast time was noted by the UK tourist family), Kelly Gleeson and Rebecca Kennedy. Carissa Hickey scored a PB and also the win overall.
See you at the Hotel Canobolas Saturday night at 630 for the huge Pizza Night and then depending on your choices at dinner hopefully at Sunday's run at 9am at the picturesque Lake Canobolas. I hear there is also a 9km trail run at Mitchells Way at 645 for a 7am start.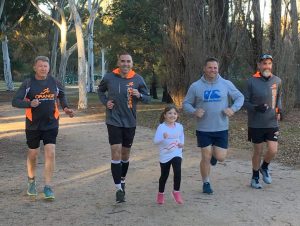 Picture of Runners Club members with Phil Donato (second from right).