CWD : 12th January 2019
OA fantastic turnout of 89 runners for the first Sunday run of the year at Botanic Gardens (must be to run off the festival cheer, New Year resolution or the start of some serious training for the Orange Running Festival).
Congratulations to John Connolly on achieving an amazing 800 club runs! Well done to Claire Anlezark on her 25 club runs. The handicap winner was Michael Halls (Michael ran 4.8k in 29:32).
First placegetters were:
1.6k – Tony Fitzpatrick and Lily Bangert
3.2k – Rikky Bangert and Jocelyn Blair
4.8k – Iain McLean and Kinisha Roweth
6.4k – Joel Broadfoot and Leanne Corcoran
8k – Gareth Thomas and Rhonda Jones
9.6k – Brad Simmons and Carissa Hickey
An awesome turnout of 90 members at Elephant Park on Wednesday afternoon for our 3km handicap run. Well done to Rhonda Jones (50 runs) and Greg Thornton (25 runs) on receiving your achievement medals. A few new members today having their first run with the club – welcome to Skye Napier, Brenton Anthony and the Duerden family (Peter, Amber, Emma and Alice). Congratulations to Claire Blair who was the handicap winner.
Placegetters this week were Mitch Williamson 9:48, Iain McLean 11:10 and Brad Simmons 11:42 for the men and for the ladies, Leanne Corcoran 12:04, Alicia Ross 12:44 just ahead of Lily Craig 12:49.
Tomorrow's run is at Berrilee Forest with a choice of 4k, 8.1k and 12k options (9am start).
The Orange Running Festival is coming up very quickly (2-3 March) – perfect time to enter and pay the early bird price (by 3 February).  Plenty of race options for the whole family – 2km, 5km, 10km, half marathon and marathon.  Register online at the festival website (www.orangerunningfestival.com.au).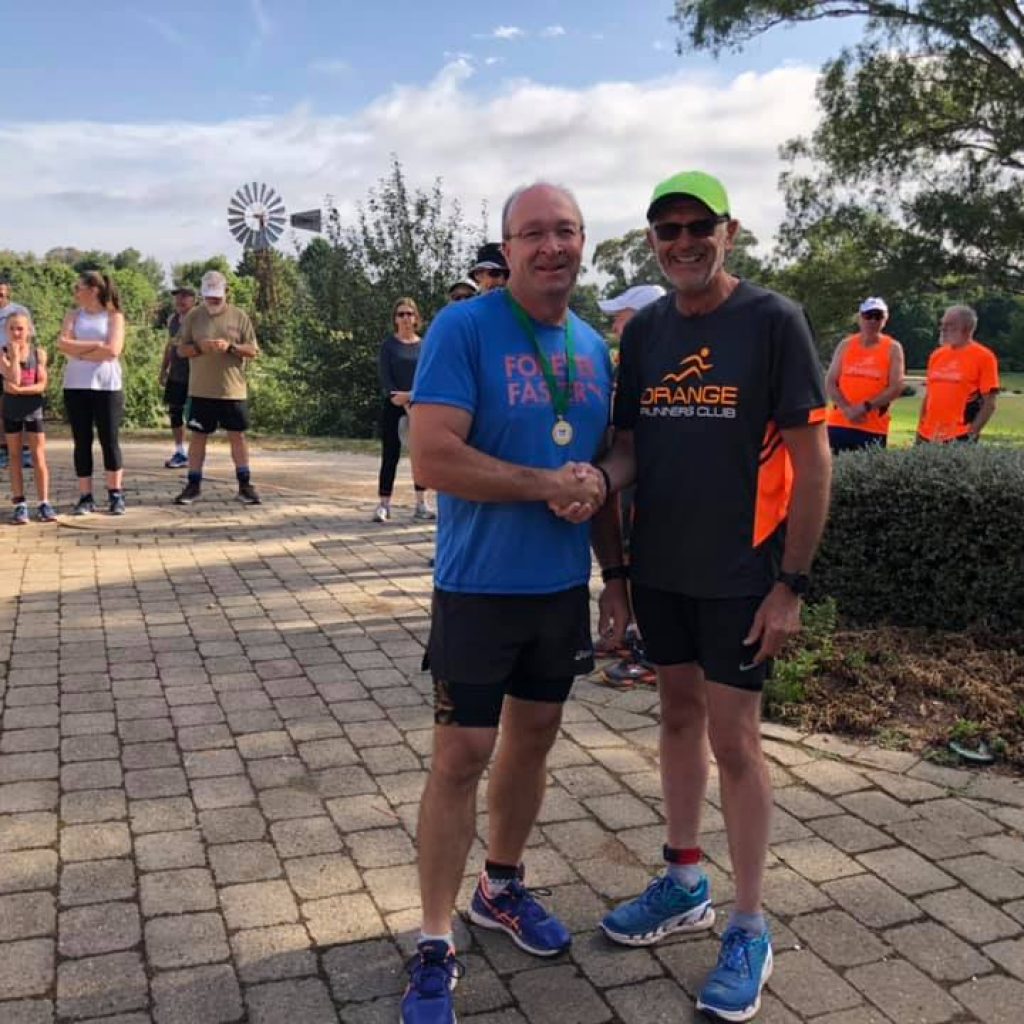 Photo of John Connolly been presented his 800 run achievement medal from Vice President Greg Shapter at the Botanic Gardens.