CWD : 5th January 2019
Very warm conditions greeted members at Shiralee Road last Sunday morning for the last run of the year.  Congratulations to Katrina Smith who was the handicap winner today. Katrina ran the 4km in a time of 21:00.  Thankyou to Julie and Tony Fitzpatrick for taking the mats and equipment over December.
In the 4km, Amber Rich (18:15) was first home in the ladies followed by Katrina Smith 21:00 and Kylie Duncan 22:52.  Hugh Daintith 18:17 was a clear winner in the men, ahead of his older brother Jack Daintith 20:14 and young gun Jai Anlezark 20:17.
Liz Simpson 39:35 continued her recent great form being first home in the 8km woman, ahead of the consistent Kim Jarvis 52:30 who held out Anna Daintith 54:24 into 3rd place.  In the men the pace was really on with Iain McLean 33:56 first home ahead of Tim Murphy 35:01.  John Betts was third in a time of 52:25.
In the 12k, Carissa Hickey not intent in just running out to the event, was first home in 1:03:05 ahead of Alicia Ross 1:04:57 not too far behind.  Anthony Daintith 55:48 was first home in the men, followed by Daryl Roweth 1:01:56 (who also ran from home as a warmup) and Mike Cooper 1:05:21, who managed to again stay upright for another week.
Wednesday was the first run for 2019.  Well done to Laurie Montague (25 runs) and Alison Spurway (400 runs) who were presented with the achievement medals.  Well done to Ian Spurway who was both the fastest (11:59) and the handicap winner.  PBs this week were achieved by Ian Spurway (1:21 improvement) and Matthew Vickary (3:40 improvement).  Welcome to Hadden Bennett who ran his fist run with the club (awesome time of 12:24).
Liz Simpson was again the first female home in a time of 12:14, just ahead of ROTY Alicia Ross 12:29 and the consistent Carissa Hickey 13:05.
The returning Ian Spurway was first male in a time of 11:59, just ahead of Hadden Bennett 12:25 and Ed Maclean in a time of 12:43.
Tomorrow's run is at Botanic Gardens with a choice of 1 to 6 laps with each lap 1.6km in length (9am start).
The Orange Running Festival is coming up very quickly (2-3 March) – perfect time to enter and pay the early bird price (by 3 February).  Plenty of race options for the whole family – 2km, 5km, 10km, half marathon and marathon.  Register online at the festival website (www.orangerunningfestival.com.au).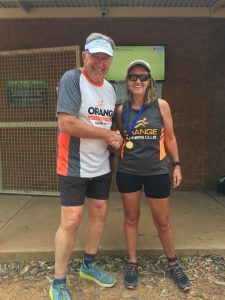 Photo of Alison Spurway been presented her 400 run achievement medal by John Betts.