CWD : 29th December 2018
Gorgeous running conditions greeted members at the scenic Gosling Creek on Sunday morning. Congratulations to Jane Fairgrieve who was declared handicap winner on the day, completing the 8km in 53:27.
In the 2.3km, it was the battle of the Jurd sisters with Milla Jurd (10:52), holding off sister Lucy (12:30) to finish in 2nd, followed by Tanya Connolly (13:03) in 3rd. Young Jai Anlezark completed the course in 10:32, followed by Logan Whiteley 11:31 in 2nd and Kim Anlezark finishing in 3rd place in a time of 13:22.
In the 4.6km, Dani Syme completed the course in a time of 27:11, holding off Michelle Whiteley (29:02) who was just ahead of Kelly Jurd (29:07). Hughie Corcoran was first home in the men in a time of 21:58, followed by Noah Whiteley (23:56) in 2nd and the vastly experienced John Connolly in 3rd with a time of 24:13.
Leanne Corcoran blitzed the 8km course finishing in a time of (38:39), followed by Kinisha Roweth in 2nd (46:50) and Pam Fullgrabe 3rd (51:03). Brad Simmons was the winner of the men in (35:51) setting the pace ahead of Hugh Daintith 2nd (40:16), and Tony Fitzpatrick 3rd (45:41).
15 members took on the longer 11.5km course. In the ladies, Carissa Hickey was the first home in a time of (57:54), followed by the consistent Luisa Sims in (1:02:02), and Alicia Anlezark just edged out Alison Spurway to finish in 3rd. It was a tight race between the men, with 37 seconds separating 1st to 3rd. Iain Mclean took the honours in (49:18), followed by Nick Carney (49:46) and Anthony Daintith (49:55). Congratulations to all.
Members were faced with very warm conditions on Wednesday afternoon at Elephant Park.  Congratulations to Kim Anlezark who achieved a 2 sec PB yesterday (down to 14:20).  Well done to Jack Daintith who was declared the handicap winner on the day.
Despite the conditions, some awesome results were recorded. In the ladies, Liz Simpson was hot at the front completing the course in (11:44), followed by Alison Spurway (14:18), and Alicia Anlezark one second behind in (14:19). In the men, Anthony Daintith ran a time of (11:19), followed by Iain Mclean (11:45) and Mitch Essex (12:07).  Great to see Alison and Mitch back on Wednesdays after a little break. Well done to Matthew and Samantha Fahy who ran well while up in Orange visiting family.
Tomorrow's run is at Shiralee Road with 4, 8 and 12km options (9am start).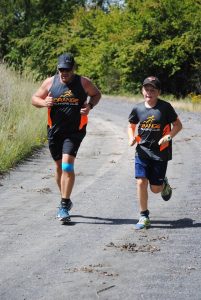 Photo of Kim and Jai Anlezark (taken by Brian Penrose).