CWD : 22nd December 2018
Great turnout of 74 members enjoyed the beautiful Spring Creek Dam run last Sunday morning (bit flatter than the previous week at the Pinnacle).
Congratulations to Nick Carney (25) and Kelly Jurd (75) were presented their achievement medals and to Claire Anlezark was the handicap winner today.
In the 2.4km, Amber Rich turned up the heat again smoking home in an impressive time of 10:11. Annabelle Hosie (12:53) and Tanya Connolly (14:05) were not too far behind.  Not to be outdone by mum, Tom Hosie was first home in the men in a time of 12:25, followed by Cameron Ross in 13:33 and our timing guru Michael Sharp in 14:24.
Obviously, there must have been some chatting going on with Karen Neal and Kelly Gleeson sharing the spoils with a time of 23:47 in the 4.6km.  Young gun Milla Jurd (24:52) was not too far behind in third position.  Iain McLean was in a hurry again finishing first in 18:47 (average of 3:56 pace) with Lachlan Ross (21:07) pushing hard for second. Great to see the flying kiwi Alistair Merrifield smashing out a 23:36 into 3rd.
Leanne Corcoran maintained a great pace to finish first in the 7.2k in a time of 32:54.  Dani Syme 45:26 held off Julie Fitzpatrick 47:58 into 3rd place.  Brad Simmons was first home in the men in a time of 32:12, followed by Connor Whiteley stretching those long legs (34:24) and Ed Maclean 37:31.
Well done to our reigning ROTY Alicia Ross who was first home in the 9.6k in a time of 47:21. Luisa Sims who keeps running so consistently finished second in 51:53 just ahead of Alicia Anlezark and Alison Spurway.  Anthony Daintith (40:59) ran down Nick Carney 43:45 on the last lap and Daryl Roweth third (48:29) after Daryl had a long warm up this morning!
As per recent history Wednesday afternoon equals rain! Regardless 42 members braved the conditions at Elephant Park. Congratulations to Kim Anlezark who was presented his 25 run medal today. Kim continues to improve all the time and will have too to keep up with Alicia and the kids.
It was pretty hot at the pointy end with Mitch Williamson (8:42) and Connor Whiteley (8:53) tearing up the track (shame about the heavy deluge in their last laps otherwise it would have been faster) and Iain McLean third home in a time of 11:08.  Connor was the handicap winner.  In the ladies Leanne Corcoran was first home in a time of 11:47, Alicia Ross second (12.25) and Kinisha Roweth third (13.34).
PB's this week were Max Maclean (1 min 41 secs) and Justine Tarleton (24 secs).
Tomorrows run is at Gosling Creek at 9am with 4 distances on offer, 2.3k, 4.6k, 8k and 11.5k.
Thank you to those who have kindly volunteered to take the mats and equipment on Sundays for a month during next year, it is greatly appreciated.
It is also time to start thinking about training for the Orange Running Festival which is now only 10 weeks away!  There will be 2km junior dash on the Saturday afternoon and then 5k, 10k, half marathon and marathon events on the Sunday morning of the Festival.  It may be that perfect time to do that marathon that you have dreamt of completing!
We will still be running on Boxing Day at Elephant Park at 5pm.  Have a Merry Christmas and hope that you all achieve your running goals for 2019.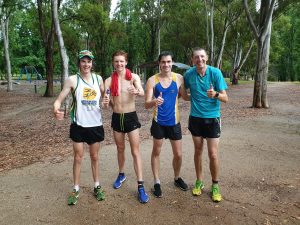 Photo of ORC runners just finishing our Wednesday run in the rain. Left to right: Jack Bilton, Connor Whiteley, Nathan Sutherland, Mitch Williamson.