CWD 12th September 2020
Rhonda Jones being congratulated by President Mike Cooper and Treasurer Judith Tarleton on becoming the new awards officer.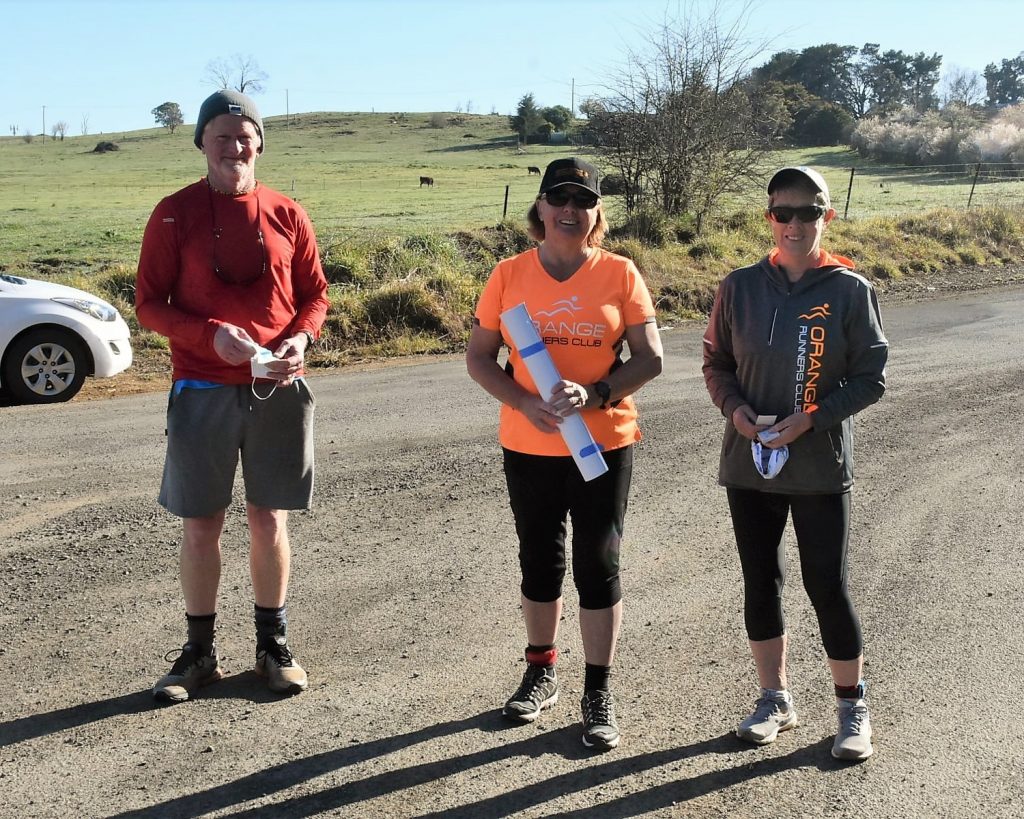 Kinisha Roweth reports:
Last Sunday, we enjoyed the fantastic weather for Father's Day with a run at Spring Creek Dam. We did our annual Father's Day lucky ticket draw giving out six prizes to some lucky fellas. The winners were: Bill Fairgrieve, Andrew McArdle, Richard Hogg, Russell Tym, Mitch Essex and Iain Mclean.
The speeding runners over the distances were:
2.4km – Female – Justine Neville 23:38, Abigail Mclean 29:26.
Male – Craig Penrose 13:14, Trevor Jones 15:41, Gary Taylor 17:05.
4.8km – Female – Ayako Kusui 23:32, Bridget Cockburn 26:32, Alison Spurway 27:51.
Male – Rikky Bangert 20:51, Noel Annett 21:50, Elliot Bangert 21:53.
7.2km – Male – Jack Daintith 27:15, Brad Simmons 31:31, Bill Fairgrieve 44:39.
9.6km – Female – Karen Mudge 52:22, Wendy Chapman 57:42, Kim Jarvis 59:13.
Male – Iain Mclean 38:54, Sam Collins 41:02, Anthony Daintith 45:22.
At Elephant Park on Wednesday night, it was sloshy, and puddles had to be jumped but we still had 25 starters take to the track completing 1, 2 or 3 laps.
Leading the Male runners, we had Jack Daintith 10:01, Hugh Daintith 12:14 and Anthony Daintith 12:43. Taking it out for the Female runners we had Alexandra Tooth 12:14, Lily Craig 13:07 and Karen Mudge 14:43.
We had a big achievement medal picked up this week – Daryl Roweth has clocked up 800 club runs! That's a lot of kilometres on those old legs. A reminder that there are still more medals waiting to be picked up.
This Sunday's run is at Gosling Creek with three distances marked out 2.3, 4.6 and 9.6km. Please continue to follow the recommendations of essentially arriving, running and then going home, minimising the social contact. You can start your run between 8:30 and 9am.
Race briefs/announcements/presentations are still cancelled at the moment – this will instead be done via email and on the facebook page.
As stated on our facebook page, membership is due, and we have a no pay, no play policy! If you have not paid your membership, your run will not be recorded and if it's not recorded, did it even happen?
We are still looking for a lovely volunteer to take up the Secretary position on the committee, please get in contact if you are interested. We are very lucky that the beautiful Rhonda Jones has taken up the role of awards officer. Thank you to the outgoing awards officer, Glenys Rosser for her dedication to the role over the last few years.
Continue to check the website, facebook and watch your emails for more information on all club activities and news.
Information provided by Kinisha Roweth.
Thanks Kinisha!