CWD 15th May 2021
Long standing member, Kim Jarvis, smiling as she completes her 1600th run with the club.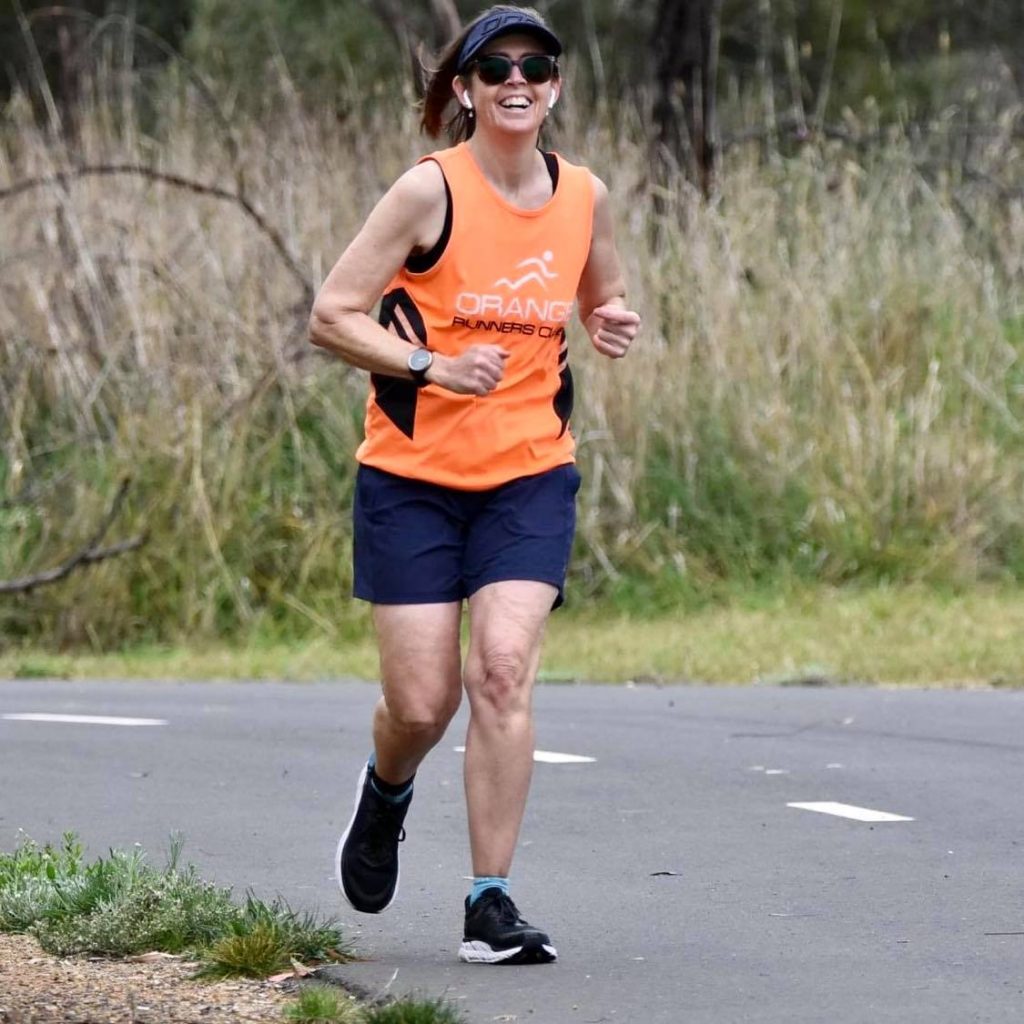 Kinisha Roweth reports.
Thanks to everyone who turned up for our AGM. I hope you all enjoyed the pizza!
The uniform order is still open and you can follow this link to make your order https://www.registernow.com.au/secure/Register.aspx?E=43529
Last Sunday, 67 members made their way through Gosling Creek on our Mother's Day run. Several lucky women were winners of prizes, although they had to make it through their run to find out. Those who completed the two longer distance options had a tough last few kilometres along the dirt road, but all made worthwhile for that amazing feeling when you are finished.
The leading club members in each distance were:
2.3km – Female – Belle Fisher 14:39, Harriet Gibson 23:07, Helen Roberts 26:06.
Male – Gary Taylor 16:03, Thomas Gibson 18:32, David Gibson 23:07.
4.6km – Female – Leanne Corcoran 20:57, Courtney Hayes 23:04, Rhianna Hume 24:43.
Male – Derek Thompson 22:33, Mike Cooper 23:54, Tony Fitzpatrick 24:43.
8km – Female – Kim Jarvis 49:26, Lauren Beels 53:05, Kim Roweth 53:10.
Male – Simon Lun 53:28, George Rutledge 1:00:25, Basil Baldwin 1:02:20.
11.6km – Female – Lauren Reid 46:25, Alicia Anlezark 1:00:49, Ayako Kusui 1:01:10.
Male – Connor Whiteley 46:26, Jack Daintith 47:14, Iain Mclean 47:53.
On Wednesday, despite the slight wind chill, it was a beautiful afternoon for 75 members to turn up and run or walk around the track at Elephant Park, completing 1, 2 or 3 laps. Top three males were Jack Daintith 10:47, Calum Smith 11:32 and Mark Thomas 11:46. Completing the top three ladies were Courtney Hayes 13:49, Kinisha Roweth 13:52 and Kim Jarvis 14:53.
Personal bests were recorded this week by George Rutledge 41s, Jon Sieburn 10s and Calum Smith 36s.
Congratulations to our achievement medal receivers this week: Lilly Bangert 200 runs, Mark Thomas 50 runs, Allison Rodgers 50 runs, Mindy Smith 25 runs and a big congratulations to Kim Jarvis with 1600 runs! Kim joined ORC nearly 20 years ago, joining for her kids who enjoyed running at the time. Kim still comes and clocked up her massive 1600 club runs this week. When asked why she still comes, her reply was quick: 'What is life without runners. I have made many friends here and I really love running.' Congratulations Kim on this wonderful achievement – she is the first female to reach this milestone and has said she will be around for many years to come.
Tomorrow's Sunday run (16th May) is Berrilee Road. Distances marked out will be a 2km, 4km, 8.1km and a longer distance to be advised. Also putting out a reminder, that we are still operating under COVID-19 regulations. On Wednesdays, timing begins at 4pm and will cease at 5:30pm. On Sundays, you must start between 8.30am and 9am. On both days still encouraging members to arrive, run and depart.
Upcoming Sunday club runs:
23rd May – Stagecoach Road
30th May – Bargwanna Road
The safety guideline for this week is to be aware of and warn others of potentially dangerous animals (eg. snakes, kangaroos, dogs).
Race briefs/announcements/presentations are still cancelled – this will instead be done via email and on the Facebook page.
Continue to check the website, Facebook and watch your emails for more information on all club activities and news.