CWD : 19th May 2018
Last Sunday, Orange Runners Club held its monthly trail run in Kinross Forrest. 15 members took on a 12.5K effort, climbing a massive 330m in all. Meg Reeves (1:06:30), Alison Spurway (1:27:09) and Renai McArdle (1:41:51) and  Kate Thornton (1:41:51) were the fastest ladies, whilst the fastest men were Sam Collins (1:04:25), Mitchell Essex (1:09:37) and Tim Murphy (1:10:46). Fantastic effort all round!
Later in the morning shortly after 9am, the regular Orange Runners Club run was held at Elephant Park, where 99 runners had the choice of one through to six laps of the scenic 1.6k course, taking in the splendour of Moulder Creek in a reverse direction. Before the run was a raffle for the 33 mothers who were present. The first 3 finishers by gender for each distance are as follows:
1 lap (1.6K) – Female: Tilly Thornton (12:30), Kate Thornton (13:13) and Harriet Gibson (14:44). Male: Graham Fahy (9:58), Jack Flemming (10:02) and  John Hannan (12:12).
2 laps (3.2K) – Female: Amber Rich (13:30), Ella Lamrock(15:17) and  Milla Jurd (15:40). Male: Tony Fitzpatrick (15:43), Tom Hosie (16:42) and David Craig (16:44).
3 laps (4.8K) – Female: Liz Simpson (21:53), Lucy Jurd (23:05) and Kelly Gleeson (23:21). Male: Stephen Martin (19:35), Noah Lamrock (19:50) and Hugh Daintith (21:33).
4 laps (6.4K) – Female: Mel Bolton (41:38), Pam Fullgrabe (44:13). Male: Mike Cooper (29:53),  Edward MacLean (30:43) and Logan Whiteley (32:48).
5 laps (8.0K) – Mixed: Leanne Corcoran (34:45), John Betts (40:39) and Russell Tym (45:07).
6 laps (9.6k) – Female: Kim Jarvis (59:09) and Jane Fairgrieve (59:09). Male:  Tim Murphy (41:55), Anthony Daintith (42:37), and Daryl Roweth (46:30)
A big thumbs up to all who participated, Tilly Thornton was declared the winner.
On Wednesday, 78 competitors took part in the regular 3 lap handicap event, just on dusk due to the shortening days. The fastest ladies were Leanne Corcoran (12:16), Ursula Wilson (12:32), Lily Bangert (13:46). The fastest men were Noah Lamrock (10:57), Anthony Daintith (11:07), and Hugh Corcoran (11:15). PBs were achieved by Anthony Daintith (1s), Hugh Corcoran (35s), Elliott Bangert (1s), Logan Whiteley (7s), Edward MacLean (10s), Clare Moreland (32s) Lauren Beels (7s), David Aseguinolaza (7s), James MacNeil (36s) Katie Wright (2s) Noah Whiteley (1:18) and Kathlene Murphy (4s). Well done to all who took part, Bradley Tyack was declared the winner.
Just before the Wednesday run, participation medals were handed out to Josephine Kitto (200 runs) and Bill Fairgrieve (1200 runs). Thank you folks, for your continued support of club events.
This Sunday sees the club back at Bargwana Rd for our regular Sunday Run where members can try 3K, 5K and 10K routes on an undulating, unsealed rural road. This coming Wednesday sees the regular 3-lap handicap event at 5pm.
Members should visit the club website on www.orangerunners.com.au or our Facebook page for further details on these and upcoming events. Those interested in joining our club should visit the club website for further information.
Yours in running
Richard Eggleston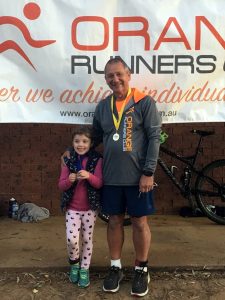 Photo of Josephine Kitto (200 runs) and Bill Fairgrieve (1200 runs).