CWD 20th March 2021
Wendy Chapman and Anthony Daintith pushing their paces around Lake Canobolas.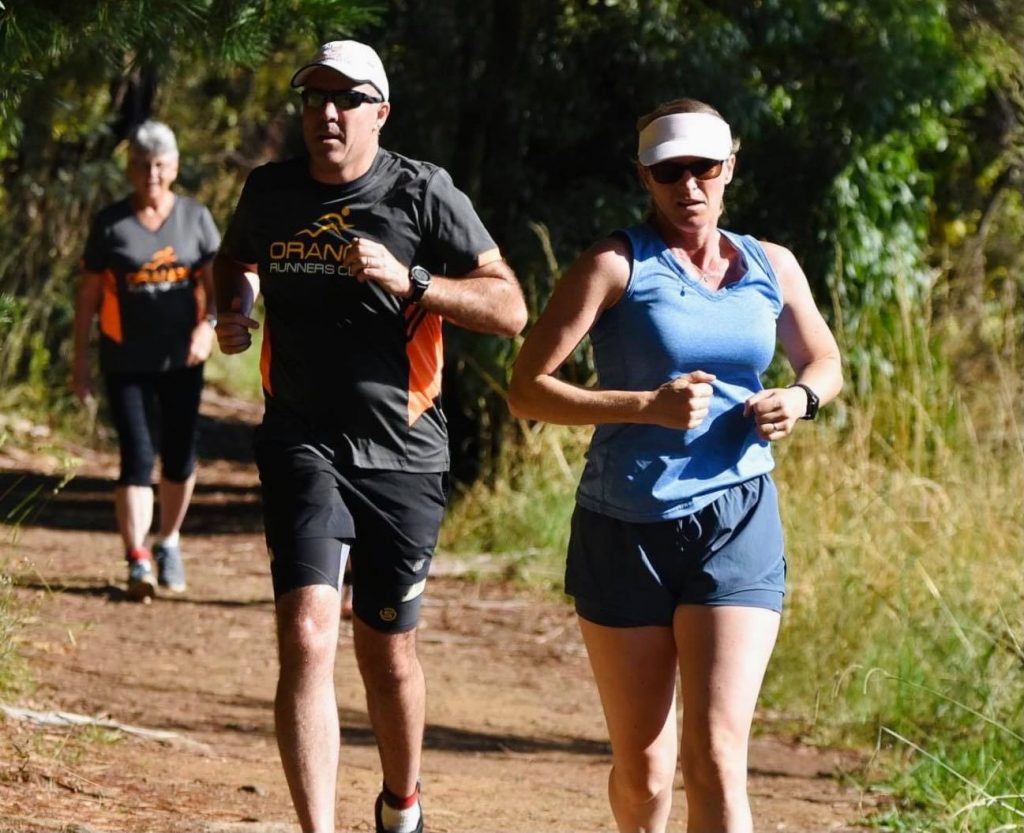 Kinisha Roweth reports.
Sending out well wishes and a speedy recovery to Trevor Jones and we are looking forward to seeing you back at Runners soon.
Last Sunday, a number of members braved the cold weather with the rain holding off to run 1 to 4 laps around Lake Canobolas. There were 51 individuals who toughed it out to still get their Sunday run in. As always thank you to Brian Penrose for capturing pictures of as many of us as possible at our Sunday runs, whether we are in a stressful state or happy.
The leading runners in each distance were:
2.5km – Female – Lucy Jurd 14:57, Milla Jurd 14:58, Tilly Thornton 15:32.
Male – Mike Cooper 13:39, Gary Taylor 17:35, Angus Finlay 18:55.
5km – Female – Kelly Jurd 29:28, Karen Mudge 31:10, Claire Gates 33:14.
Male – Peter Finlay 28:28, Jamie Corcoran 30:20, Phillip Mudge 40:35.
7.5km Female – Jess Pooley 37:09, Kinisha Roweth 42:31, Jessica Wallace 46:58.
Male – Sam Collins 37:09, Bill Fairgrieve 47:30, James Thomas 49:02.
10km – Female – Leanne Corcoran 47:23, Kim Jarvis 1:02:54, Anna Daintith 1:21:03.
Male – Jack Daintith 43:22, Iain McLean 45:02, Mark Thomas 45:50.
On Wednesday, 70 members ran or walked around the track at Elephant Park completing 1, 2 or 3 laps in the chilly weather, under the dark and gloomy clouds. Top three males were Hadden Bennett 10:36, Jack Daintith 11:07 and Mark Thomas 11:25. Completing the top three ladies were Leanne Corcoran 11:46, Elizabeth Simpson 12:58 and Nicola Blore 13:01.
Personal bests were recorded this week by Maree Moss 14s, Hadden Bennett 10s, Benjamin Hill 27s, Samantha Pluymers 1m3s and Phillip Thomas 3s.
Tomorrow's run (21st of March) is at Bloomfield Golf Course, although double check Facebook and emails for any variation. Distances still to be advised so please check the board or ask Michael on arrival. Also putting out a reminder, that we are still operating under COVID-19 regulations. On Wednesdays, you need to start and finish your laps between 4pm and 5.45pm. On Sundays, you must start between 8.30am and 9am. On both days still encouraging members to arrive, run and depart.
Upcoming Sunday club runs:
28th March – Great Volcanic Challenge (Don't forget to enter online for this event)
The safety guideline for this week is to look out for and alert others where safety could be improved.
The Canberra Running Festival is on the 11th of April. If anyone is interested in going for an ORC meal in Canberra on the 10th (Saturday dinner) or 11th (Sunday lunch), please contact Daryl or Judy on the numbers advised in the email.
Race briefs/announcements/presentations are still cancelled– this will instead be done via email and on the Facebook page.
Continue to check the website, Facebook and watch your emails for more information on all club activities and news.