CWD 13th March 2021
Four inspiring ladies completing a club run.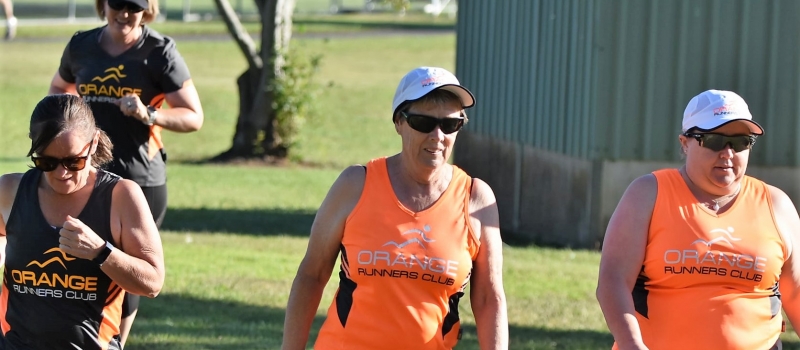 Kinisha Roweth reports.
Last Sunday, the community of Orange greatly enjoyed the special edition, Orange Running Festival. The distances the festival included were a 2km junior race, 6km women's race and 6km men's race. It was reported that the committee were happy with how the weekend progressed and that all club members had great runs.
The first 3 male and female club members for each event were:
2km Junior Female – Skye Napier 7:30, Milla Jurd 8:25, Lucy Jurd 9:10.
2km Junior Male – Blake Gleeson 7:14, Freddie Farquharson 8:36, Nicholas Irwin 8:44.
6km Women's – Jess Pooley 27:08, Bec Davis 27:47, Ayako Kusui 28:11.
6km Men's – Mitch Williamson 19:38, Miller Rivett 20:34, Nathan Sutherland 21:09.
On Wednesday, 80 members ran or walked around the track at Elephant Park completing 1, 2 or 3 laps in the gorgeous weather. Top three males were Peter Finlay 10:14, Jack Daintith 11:15 and Mark Thomas 11:17. Completing the top three ladies were Emma Harley 13:04, Penny Chandler 14:18 and Luisa Sims 14:44.
Personal bests were recorded this week by Nicholas Irwin 1m54s, Mark Thomas 7s, Samantha Pluymers 8s, James Thomas 7s and Angela Sieburn 1m46s.
Tomorrow's run (14 March) is at Lake Canobolas with the usual 2.5km lap marked out. You can choose to do 1 to 4 laps around the lake, with the longest option being 10km. Also putting out a reminder, that we are still operating under COVID-19 regulations. On Wednesdays, you need to start and finish your laps between 4pm and 5.45pm. On Sundays, you must start between 8.30am and 9am. On both days still encouraging members to arrive, run and depart.
Don't forget to enter the Great Volcanic Challenge happening on Sunday the 28th of March. If you aren't up for the 11km, there is the family 5km event as well.
The safety guideline for this week is being aware of other people using the track and giving way to them when needed.
Race briefs/announcements/presentations are still cancelled– this will instead be done via email and on the Facebook page.
Continue to check the website, Facebook and watch your emails for more information on all club activities and news.