CWD 6th March 2021
Andrew McArdle receiving his medal for 400 club runs.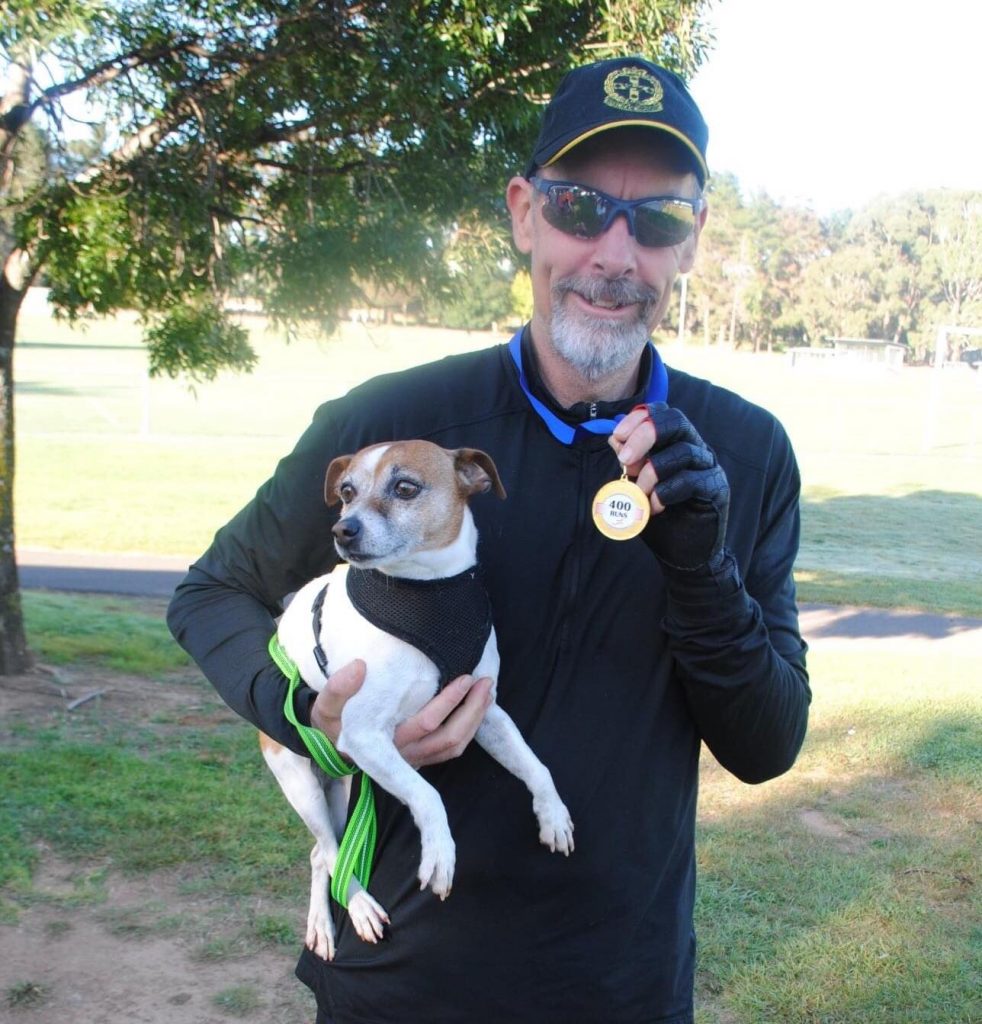 Kinisha Roweth reports:
Last Sunday, we had a last-minute run location change to Jack Brabham where runners had the option to complete the 1.75km lap, 1 to 6 times. 52 members turned up to take advantage of the beautiful morning and get their exercise in.
The leading runners over the laps were:
1.75km – Female – Justine Neville 16:17.
Male – Sam Harma 7:24, Alexander Tym 14:14, Brian Penrose 40:56.
3.5km – Female – Milla Jurd 20:52, Lucy Jurd 21:23, Claire Gates 22:07.
Male – Fred Bangert 15:23, Blake Gleeson 15:55, Hayden Hyde 19:49.
5.25km – Female – Bridget Cockburn 29:31, Jane Fairgrieve 33:19, Rosemary Elkington 34:12.
Male – Jack Taylor 20:20, Rikky Bangert 20:22, Peter Hyde 28:17.
7km – Female – Anna Daintith 52:56.
Male – Mike Cooper 35:51.
8.75km – Female – Jess Pooley 43:10, Kim Roweth 58:39, Karren Skelton 1:00:47.
Male – George Rutledge 1:11:40, Andrew McArdle 1:20:11.
10.5km – Female – Ayako Kusui 52:24, Kim Jarvis 1:09:14.
Male – Miller Rivett 41:04, Iain McLean 43:14, Chris Pooley 45:37.
On Wednesday, 78 members took to the track at Elephant Park to complete 1, 2 or 3 laps under the gorgeous sun. Top three males Jack Daintith 10:10, Peter Finlay 10:14 and Hadden Bennett 10:46. Completing the top three ladies were Emma Harley 12:38, Bec Davis 12:45 and Nicola Blore 12:59.
Personal bests were recorded this week by Sheree Ryan 1m13s, Bec Davis 12s, Maree Moss 4s, Hadden Bennett 5s, Madeline Hill 28s, Mark Thomas 1s, Nicola Blore 6s, James Thomas 36s, Emma Harley 18s, Phillip Thomas 36s and Mel Rossiter 1m33s.
Congratulations to our achievement medal receivers this week: Nicola Blore 25 runs, Rhonda Jones 200 runs, Trevor Jones 100 runs and Andrew McArdle 400 runs.
Tomorrow's run (7 March) is the Special Edition Orange Running Festival with the distances; kids 2km, women's 6km and men's 6km. You can enter online up until 4pm this afternoon (Saturday 6th March). The kids' 2km gun goes off at 8:30am; Women's 6km starts at 9:45am; and the Men's 6km starts at 11am.
Also putting out a reminder, that we are still operating under COVID-19 regulations. On Wednesdays, you need to start and finish your laps between 4pm and 5.45pm. On Sundays, you must start between 8.30am and 9am. On both days still encouraging members to arrive, run and depart.
Upcoming Sunday club runs:
14th March – Lake Canobolas
Safety guideline for this week is to wear appropriate clothing for the weather conditions and apply sunscreen!
Race briefs/announcements/presentations are still cancelled– this will instead be done via email and on the Facebook page.
Continue to check the website, Facebook and watch your emails for more information on all club activities and news.