CWD 27th February 2021
Chris Pooley and Richard Eggleston enjoying their runs in the sun.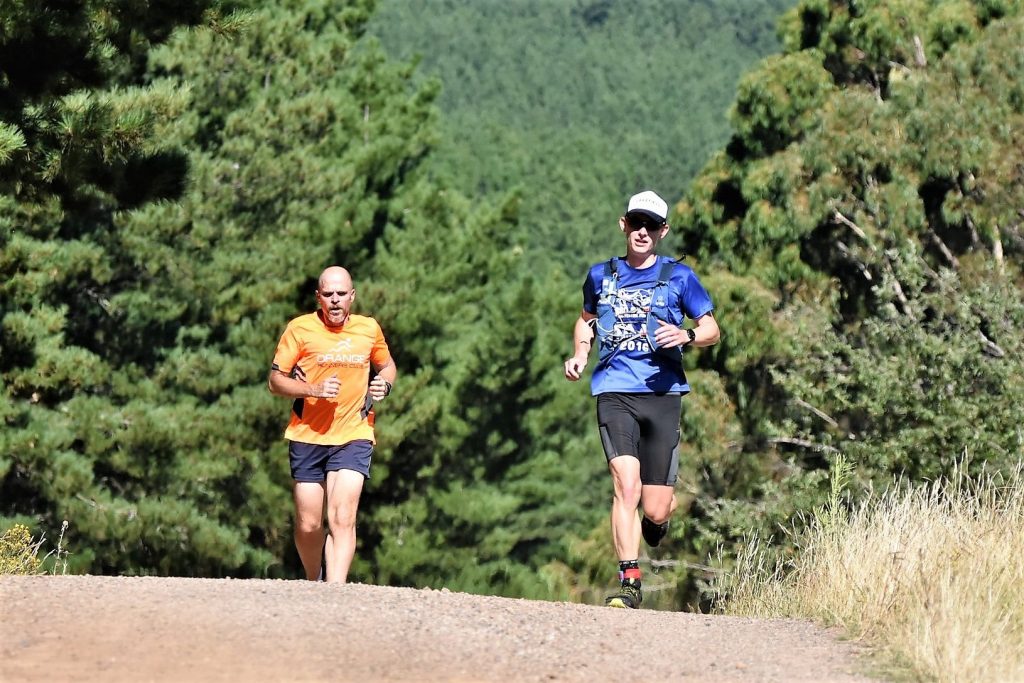 Kinisha Roweth reports:
Last Sunday's hot morning brought 62 runners to CSU to complete the 1.9km loop, 1 to 6 times. Near the end of the morning, members were entertained by a motorized paraglider flying above our heads.
The leading runners over the laps were:
1.9km – Female – Talitha Mudge 13:36, Fiona Montgomerie 18:19.
Male – Come on boys.
3.8km – Female – Kinisha Roweth 22:50, Kelly Jurd 23:07, Lucy Jurd 23:58.
Male – Mike Cooper 19:37, Gareth Thomas 20:23, Steven Wensley 22:56.
5.7km – Female – Kate Thornton 33:23, Karen Mudge 36:24, Samantha Pluymers 39:35.
Male – Hugh Daintith 28:35, Alex Irwin 32:14, Russell Tym 37:11.
7.6km – Female – Jess Pooley 40:44, Bridget Cockburn 47:21, Kim Roweth 53:18.
Male – Peter Finlay 31:23, Mark Thomas 36:48, David Craig 41:51.
9.5km – Female – Jessica Wallace 1:00:44, Wendy Chapman 1:03:06, Pam Fullgrabe 1:06:56
Male – Jack Daintith 41:57, Brad Simmons 46:41, Peter Regan 55:10.
11.4km – Female – Nicola Blore 58:24, Ayako Kusui 1:00:05, Ursula Wilson 1:05:53.
Male – Sam Harma 48:55, Eddie Feeney 54:50, Jared Sullivan 57:19.
On Wednesday, 80 members took to the track at Elephant Park to complete 1, 2 or 3 laps in the afternoon sun. Top three males Jack Daintith 10:30, Jared Sullivan 11:15 and Rikky Bangert 11:16. Completing the top three ladies were Leanne Corcoran 11:54, Nicola Blore 13:05 and Pip Farquharson 14:38
Personal bests were recorded this week by Nicola Blore 3s, Dexter Lloyd 14s and Phillip Thomas 4s.
Congratulations to our achievement medal receivers this week: Harry Jones 25 runs, Talitha Mudge 25 runs and Karren Skelton 25 runs.
Tomorrow's run (28 February) is at the old Bloomfield Golf Course with the distance and number of laps still to be advised. Also putting out a reminder, that we are still operating under COVID-19 regulations. On Wednesday's, you need to start and finish your laps between 4pm and 5.45pm. On Sunday's, you must start between 8.30am and 9am. On both days still encouraging members to arrive, run and depart.
Upcoming Sunday club runs:
7th March – Special edition running festival (Gosling Creek – make sure you have entered online)
Race briefs/announcements/presentations are still cancelled– this will instead be done via email and on the Facebook page.
Continue to check the website, Facebook and watch your emails for more information on all club activities and news.