CWD 20th February 2021
Legendary Brian Sharp aka Pop has finally achieved 400 club runs.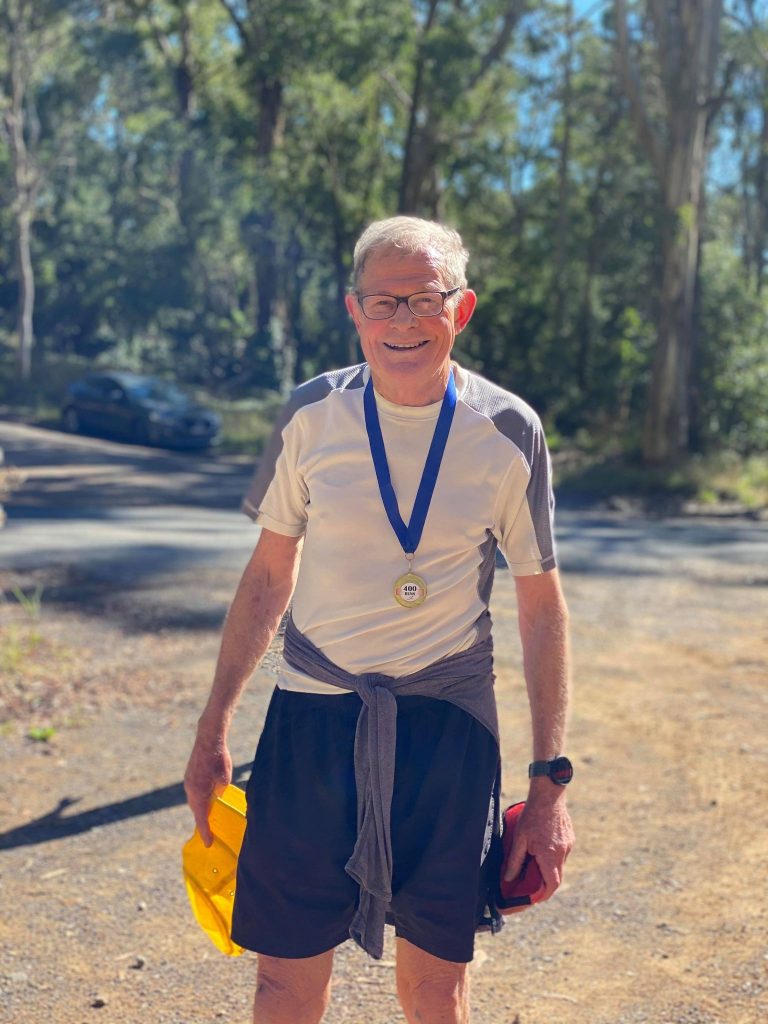 Kinisha Roweth reports:
Last Sunday, 66 runners took to the forest to complete the out and back course amongst the trees. Pinnacle is always a nice testing track so it was great to see everyone out there testing their limits.
The leading runners over the laps were:
3km – Female – Claire Gates 19:37, Justine Neville 28:28, Judy Tarleton 29:36.
Male – Mike Cooper 17:16, Benjamin Heaton 19:12, Russell Tym 19:44.
7km – Female – Nicola Blore 36:14, Bridget Cockburn 41:54, Hannah Chapman 46:11.
Male – Peter Finlay 29:19, Iain McLean 31:20, Mark Thomas 32:03.
10km – Female – Leanne Corcoran 54:13, Bec Davis 54:20, Rosemary Elkington 54:25.
Male – Jack Daintith 46:38, Chris Pooley 46:55, Joel Broadfoot 48:08.
On Wednesday, members took to the track at Elephant Park to complete 1, 2 or 3 laps in the afternoon sun. Top three males Peter Finlay 10:08, Iain McLean 10:27 and Hadden Bennett 10:49. Completing the top three ladies were Leanne Corcoran 12:02, Nicola Blore 13:08 and Penny Chandler 14:05.
Personal bests were recorded this week by Sheree Ryan 2m17s, Hadden Bennett 2s, Peter Finlay 7s, Phillip Mudge 38s, Mark Thomas 1s, Nikki Grant 17s, Stacey Yaroslavceff 20s, Dexter Lloyd 17s, Phillip Thomas 42s and Mel Rossiter 1m1s.
Congratulations to our achievement medal receiver this week, the one and only Brian Sharp 400 runs. Brian is a long-time club member and is a great role model to everyone in the club.
Tomorrow's run (21 February) is at Charles Sturt University Orange Campus. This run is a 1.6km loop with the option to complete 1 to 6 laps. Please only come if you have completed the CSU COVID declaration form. Also putting out a reminder that we are still operating under COVID-19 regulations. On Wednesday's, you need to start and finish your laps between 4pm and 5.45pm. On Sunday's, you must start between 8.30am and 9am. On both days still encouraging members to arrive, run and depart.
Upcoming Sunday club runs:
28th February – the old Bloomfield Golf Course.
Our 2021 special edition running festival only 2 weeks away, taking place on the 7th of March, you can now enter on the Orange Running Festival Website.
Race briefs/announcements/presentations are still cancelled– this will instead be done via email and on the Facebook page.
Continue to check the website, Facebook and watch your emails for more information on all club activities and news.