CWD 13th February 2021
Smiles all round at the Sunday club run.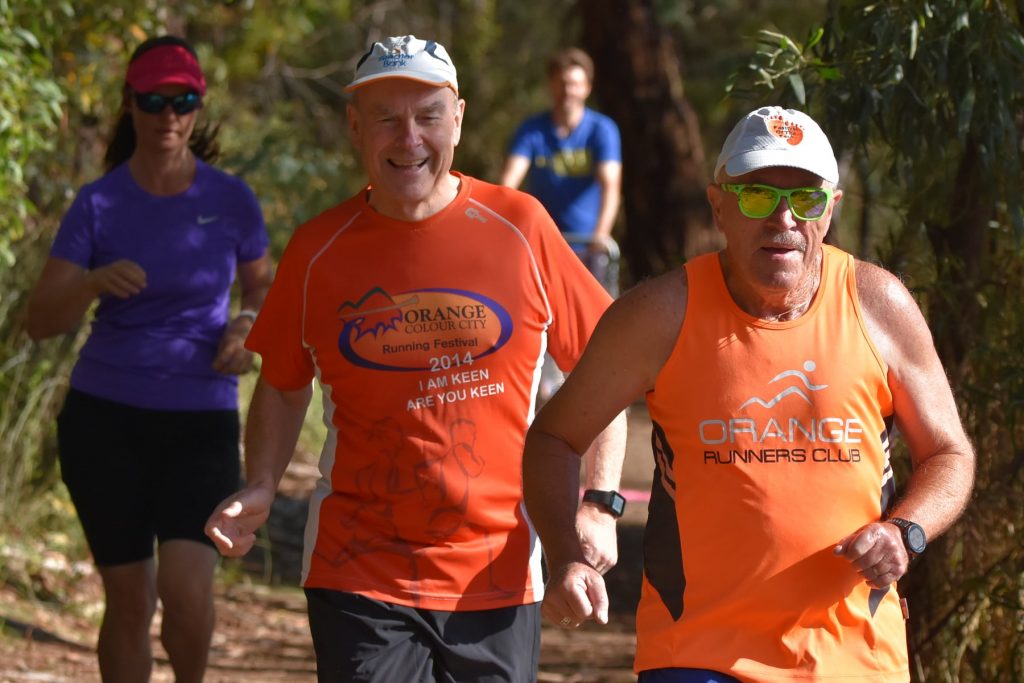 Kinisha Roweth reports:
Last Sunday, 70 members travelled to Forest Reefs to the Baldwin's hazelnut farm. Basil had marked out 3, 5, 8 and 12km courses which were all thoroughly enjoyed. Although, what I believe was more enjoyed were the hazelnut pancakes Jean kindly made for everyone post-run. Please remember to show your support by donating to Pancare as a thank you to the Baldwins. Pancare is a charity that funds advocacy, patient support and research for Australians with pancreatic, liver, biliary and oesophageal cancers.
The leading runners over the laps were:
3km – Female – Fiona Montgomerie 32:47, Rebecca Essex 35:13, Helen Roberts 35:17.
Male – Oliver Chandler-Sullivan 15:42, Mike Cooper 17:56, Oscar Chandler-Sullivan 21:55.
5km – Female – Ayako Kusui 32:11, Alison Spurway 35:51, Kate Thornton 34:07.
Male – Peter Finlay 23:16, Hugh Daintith 30:16, Richard Hogg 32:51.
8km – Female – Jane Fairgrieve 55:16, Kim Jarvis 55:17, Maree Moss 59:52.
Male – Jack Daintith 35:49, Jared Sullivan 38:51, Paul Anderson 44:15.
12km – Female – Leanne Corcoran 55:15, Nicola Blore 1:05:18, Sarah Passey 1:21:49.
Male – Iain McLean 50:51, Mark Thomas 55:38, Warwick Blackwell 55:57.
Wednesday afternoon took 74 members to the track at Elephant Park to complete 1, 2 or 3 laps. Top three males Peter Finlay 10:15, Jack Daintith 10:37 and Iain McLean 10:59. Completing the top three ladies were Emma Harley 12:56, Skye Napier 13:35 and Nicola Blore 13:36.
Personal bests were recorded this week by Zac Owens 1m33s, Peter Finlay 5s, Karren Skelton 3s, Dexter Lloyd 16s, Harrison Jones 34s, Isac Elliott 31s and Emma Harley 19s.
Congratulations to our achievement medal receivers this week: Sally Wallace 25 runs, Jen Owens 75 runs and Abigail Mudge 25 runs.
Tomorrow's run (14 February) is at Pinnacle with 3km, 7km and 10km options. The 10km course turnaround point will be at the big rock. This course is good practice for the Volcanic challenge next month. Also putting out a reminder, that we are still operating under COVID-19 regulations. On Wednesdays, you need to start and finish your laps between 4pm and 5.45pm. On Sundays, you must start between 8.30am and 9am. On both days we are still encouraging members to arrive, run and depart.
Upcoming Sunday club runs:
21st February – To be confirmed please check Facebook or emails
Our 2021 special edition running festival is taking place on the 7th of March. You can now enter on the Orange Running Festival Website.
Race briefs/announcements/presentations are still cancelled – this will instead be done via email and on the Facebook page.
Continue to check the website, Facebook and watch your emails for more information on all club activities and news.