CWD 6th February 2021
Husband and wife Brad Simmons and Lyn Stannus enjoying their run at Lake Canobolas last Sunday.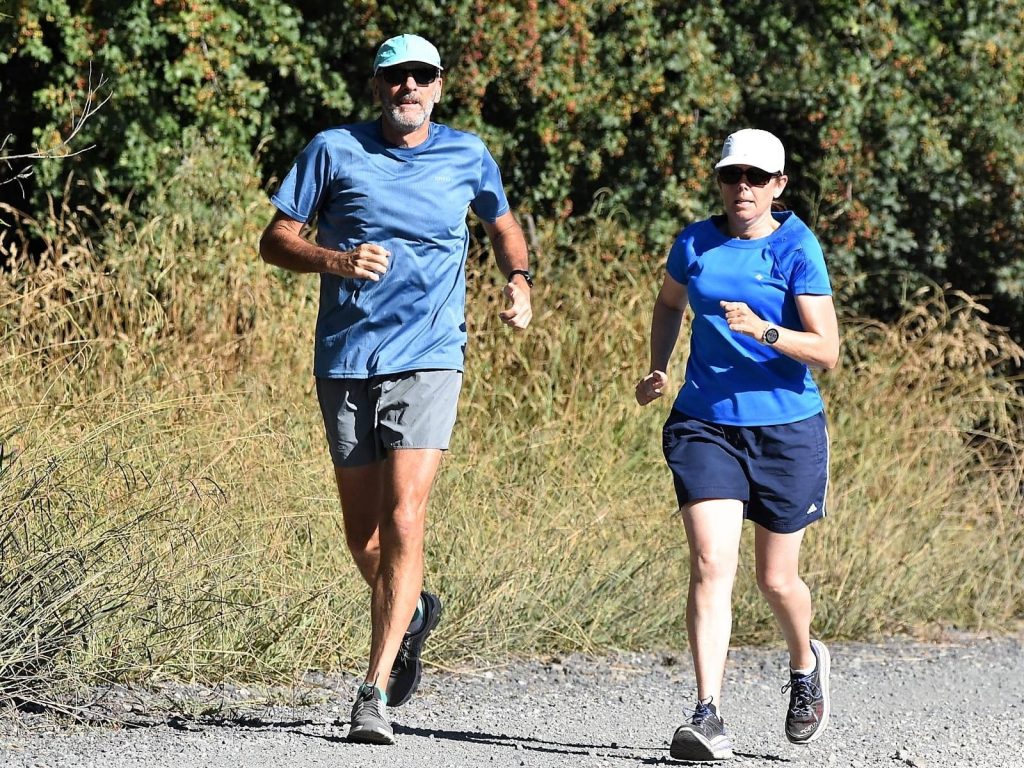 Kinisha Roweth reports:
Last Sunday, we ventured out to the gorgeous Lake Canobolas for a humid morning out. 101 members turned up and completed their choice of one to four laps around the 2.5km track. Thankfully no snakes were spotted slithering around.
The leading runners over the laps were:
2.5km – Female – Milla Jurd 12:27, Lucy Jurd 12:54, Charlotte Meiring 14:07.
Male – Rikky Bangert 9:12, Elliot Bangert 10:03, Fred Bangert 10:46.
5km – Female – Charlotte Simmons 23:00, Nicola Blore 25:26, Bridget Cockburn 27:05.
Male – Mark Thomas 22:21, Hugh Daintith 23:57, Brad Simmons 24:09.
7.5km – Female – Leanne Corcoran 33:36, Kelly Gleeson 42:12, Jen Owens 42:21.
Male – Peter Finlay 31:12, Peter Hyde 37:24, Will Miller 40:11.
10km – Female – Ayako Kusui 50:30, Luisa Sims 57:49, Wendy Chapman 1:05:14.
Male – Sam Harma 42:37, Jack Taylor 42:57, Jack Daintith 44:26.
Wednesday afternoon brought 85 members to the track at Elephant Park to complete 1, 2 or 3 laps. Top three malesConnor Whiteley 8:47, Jack Daintith 10:30 and Peter Finlay 10:30. Completing the top three ladies were Leanne Corcoran 11:34, Nicola Blore 13:25 and Lily Craig 13:30.
Personal bests were recorded this week by Phillip Mudge 38s, Mark Thomas 18s and Zac Owens 33s.
Congratulations to our achievement medal receivers this week: Kelly Jurd with 200 runs, Louisa Sims with 75 runs, John Hannan with 600 runs, Paul Anderson with 50 runs, Mark Thomas with 25 runs and Eddie Feeney with 25 runs.
Tomorrow's run is at Basil and Jean Baldwin's at Forest Reefswith 3km, 5km, 8km and 14km distances marked out. Also putting out a reminder, that we are still operating under COVID-19 regulations. On Wednesday's, you need to start and finish your laps between 4pm and 5.45pm. On Sunday's, you must start between 8.30am and 9am. On both days still encouraging members to arrive, run and depart.
Upcoming Sunday club runs:
14th February – To be confirmed please check Facebook or emails
Race briefs/announcements/presentations are still cancelled– this will instead be done via email and on the Facebook page.
Continue to check the website, Facebook and watch your emails for more information on all club activities and news.