CWD 30th January 2021
(L-R): Rosie Corcoran, Kelly Gleeson, Nicola Blore, Leanne Corcoran and Kim Jarvis enjoying a chat after their runs.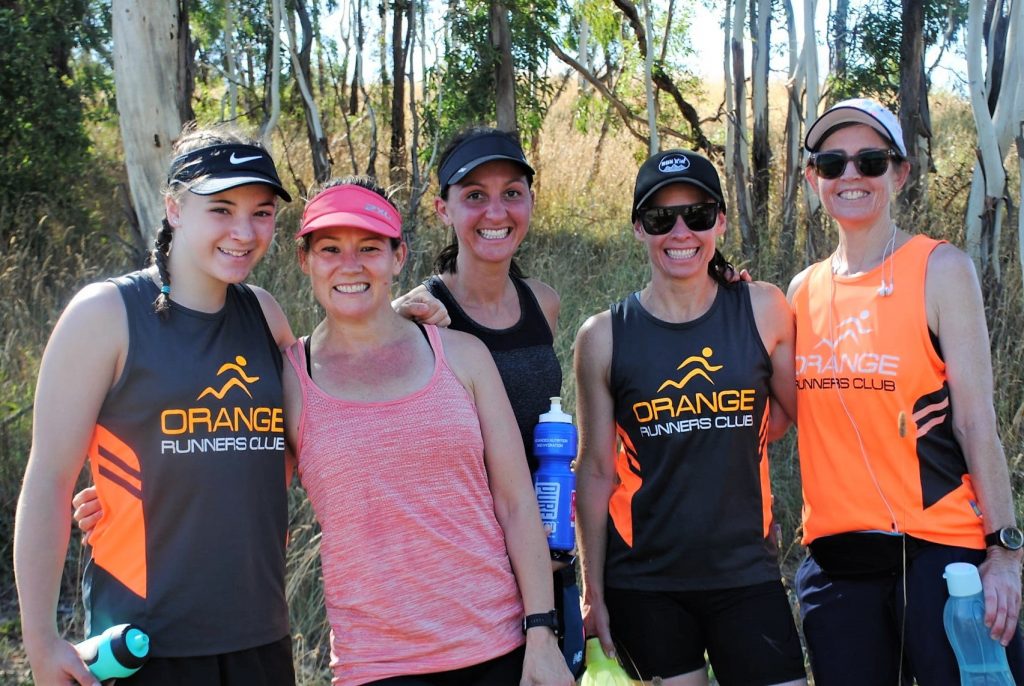 Kinisha Roweth reports:
We headed out to Spring Creek Dam and despite the hot and humid weather it was very nice to see the water level back up. There were 64 members who braved the snake weather and the dodging of the Kinross buses to get in their Sunday morning exercise.
The leading runners over the available distances were:
2.4km – Female – Karren Skelton 22:14, Fiona Montgomerie 23:41, Denise Quinlan 24:05.
Male – Trevor Jones 15:04, Oscar Chandler-Sullivan 15:40, Gary Taylor 22:05.
4.8km – Female – Penny Chandler 25:15, Bridget Cockburn 25:49, Karen Mudge 27:06.
Male – Mitchell Williamson 17:45, Rikky Bangert 21:34, Fred Bangert 22:12.
7.2km – Female – Leanne Corcoran 31:59, Lyn Stannus 43:28, Lynn O'Mara 54:13.
Male – Peter Finlay 29:04, Jack Daintith 30:25, Mark Thomas 35:03.
9.6km – Female – Ayako Kusui 48:28, Nicola Blore 51:03, Kelly Gleeson 56:22.
Male – Nathan Sutherland 36:17, Iain McLean 39:45, John Jones 45:41.
Wednesday afternoon saw 83 members take to the track atElephant Park to pace around 1, 2 or 3 laps. Top three males Jack Taylor 10:14, Peter Finlay 10:32 and Jack Daintith 10:34. Completing the top three ladies were Leanne Corcoran 11:28, Emma Harley 13:15 and Lily Craig 13:28.
Personal bests were recorded this week by Stacey Yaroslavceff 27s, Samantha Pluymers 47s, Isaac Elliott 11sand Lynne Irvine 2m7s.
Tomorrow's run is at Lake Canobolas with a 2.5km lap and the ability to do 1 to 4 laps (2.5km, 5km, 7.5km and 10km). Also putting out a reminder, that we are still operating under COVID-19 regulations. On Wednesday's, you need to start and finish your laps between 4pm and 5.45pm. On Sunday's, you must start between 8.30am and 9am. On both days still encouraging members to arrive, run and depart.
Although tomorrow's run around the lake is partly in the shade, please don't forget to apply sunscreen and wear a hat. Also remember to drink your water before and after your run.
Upcoming Sunday club runs:
7th February – Basil and Jean Baldwin's at Forest Reefs
Race briefs/announcements/presentations are still cancelled– this will instead be done via email and on the Facebook page.
Continue to check the website, Facebook and watch your emails for more information on all club activities and news.
Information provided by Kinisha Roweth