CWD 23rd January 2021
Mitch Williamson returning to Sunday club runs at Clergate, leading the 10km for the males.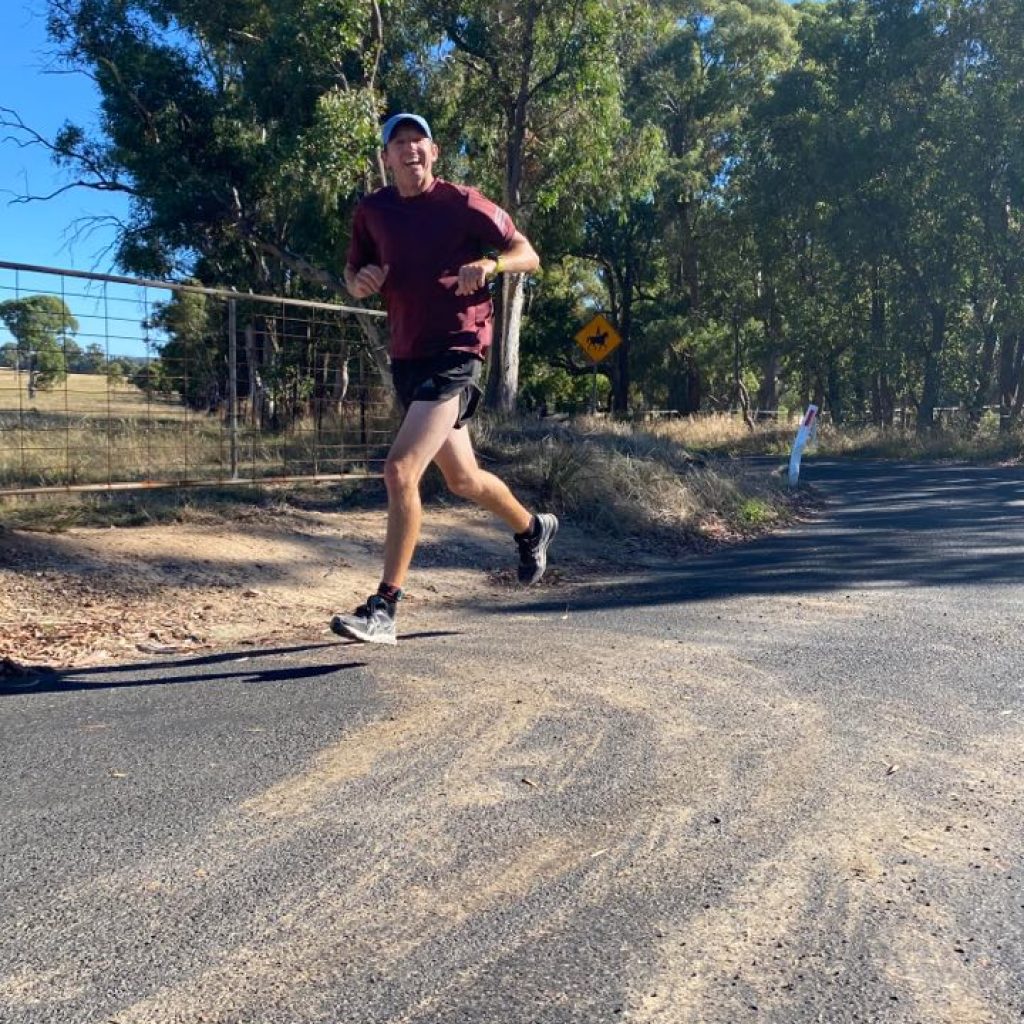 Kinisha Roweth reports:
Last Sunday, we had 79 individuals turn up to Clergate for a warm run, but we were very lucky to have some shady spots among the trees along the road to cool us down. Some members would have noticed some interesting characters cheering us on, on their way into town which certainly gave us all a laugh.
The leading runners over the marked-out distances were:
3km – Female – Claire Gates 17:33, Stacey Yaroslavceff 20:08, Alicia Ross 20:19.
Male – Blake Gleeson 14:30, Harrison Jones 17:06, Russell Tym 18:37.
5km – Female – Bridget Cockburn 26:12, Kelly Gleeson 27:27, Lyn Stannus 28:51.
Male – Alex Irwin 27:03, Bailey Penrose 28:30, James Thomas 28:57.
7.5km – Female – Bec Davis 37:40, Kate Thornton 44:03, Kelly Jurd 44:16.
Male – Peter Finlay 30:21, Jack Daintith 32:39, Hugh Daintith 37:22.
10km – Female – Leanne Corcoran 46:46, Ayako Kusui 53:09, Nicola Blore 53:43.
Male – Mitchell Williamson 39:07, Jack Taylor 43:50, Brad Simmons 44:55.
Wednesday afternoon saw 90 members head to Elephant Park to enjoy 1, 2 or 3 laps. Top three males Peter Finlay 10:24, Jack Daintith 10:38 and Iain McLean 10:51. Completing the top three ladies were Nicola Blore 13:37, Penny Chandler 14:10 and Pip Farquharson 14:26.
Personal bests were recorded this week by Simon Lun 13s, Trevor Jones 3s, Harvey Gaynor 15s, Belinda Feeney 1m7s, Eddie Feeney 14s, Stacey Yaroslavceff 1m39s, James Thomas 44s and Isaac Elliott 23s.
Congratulations to our achievement medal receivers this week: George Rutledge with 25 runs.
Tomorrow's run is at Spring Creek Dam with 2.4km, 4.8km, 7.2km and 9.6km distances to be marked out. Also putting out a reminder, that we are still operating under COVID-19 regulations. On Wednesday's, you need to start and finish your laps between 4pm and 5.45pm. On Sunday's, you must start between 8.30am and 9am. On both days still encouraging members to arrive, run and depart.
As stated in the ORC safety guidelines, can members please remember to hydrate before, during and after their run. It is also very highly encouraged to slip slop slap prior to your run.
Race briefs/announcements/presentations are still cancelled– this will instead be done via email and on the Facebook page.
Continue to check the website, Facebook and watch your emails for more information on all club activities and news.
Information provided by Kinisha Roweth