CWD : 22nd September 2018
Last Sundays run was at a new course at Spring Creek Dam.  72 members enjoyed the beautiful setting in slightly cooler conditions.  Congratulations to Brad Simmons who after 15 years brought up 500 club runs.  Alicia Ross was declared the winner.  Place getters were:
2.4k
Female: Rosie Corcoran (24:00), Fiona Montgomerie, Josephine Kitto
Male: Cameron Ross (14:03), David Ross, Gary Taylor
4.8k
Female: Amber Rich (21:24), Milla Jurd, Kylie Duncan
Male: Rikky Bangert (18:43), Michael Kennard, Noel Annett
7.2k
Male: Hugh Daintith (34:14), Alex Irwin, Brian Sharp
Female: Alicia Ross (35:07), Leanne Corcoran, Alison Spurway
9.6k
Male: Anthony Daintith (39:26), Brad Simmons, Joel Kitto
Female: Liz Simpson (44:00), Carissa Hickey, Alison Broughton
78 members enjoyed the spring conditions at Elephant Park on Wednesday. Congratulations to Violet Sunderland who was presented with her 25-run medal. Well done to Ellie Widdicombe who was the winner (14:38).  Placegetters were:
Male:
Rikky Bangert 10:21
Nick Carney 10:42
Joel Broadfoot 10:48
Female:
Carissa Hickey 12:14
Ella Lamrock 12:30
Lily Craig 12:51
This week's PBs were Joel Broadfoot, Kilty Mason, Sophie Broughton, Ellie Widdicombe, David Aseguinolaza and Nick Carney.
Junior Spring Racing Carnival is back!  It will be held on the last Wednesday of September (26th), October (31st) and November (28th).  Great opportunity for our talented junior runners to run against other junior members in their own age group (more information to be sent out to members very shortly).
This Sundays run is at Bulgas Road starting at 9am (3,5,10,14k).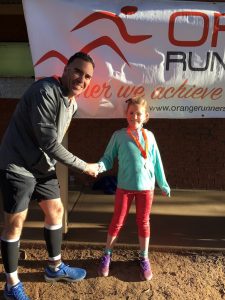 Violet Sunderland being presented her 25 run achievement medal by Club President Anthony Daintith