CWD : 29th September 2018
Last Sundays run was held at Bulgas Road where 50 members enjoyed the warmer spring conditions .  Great to see Chris Davis back on track after his accident.
Congratulations to Michael O'Mara who was presented his 25 run medal. It was obviously Michael's lucky day as he was also declared the winner. Placegetters this morning were:
3km:
Tanya Connolly (17:44), Ella Lamrock, Justine Tarleton
Bill Fairgrieve (19:11)
5km:
Amber Rich (22:50), Penny Chandler, Melissa Fogarty
Noah Lamrock (22:50), Anton Lynar, Hugh Daintith
10km:
Jane Fairgrieve (1:12:23), Kim Jarvis, Kay Davis
Joel Kitto (52:44), Gareth Thomas, Alex Irwin
14km
Ursula Wilson (1:13:48), Carissa Hickey, Anna Daintith
Anthony Daintith (1:06:35), Daryl Roweth, Ed Maclean
In the Edgell Jog, Mitch Williamson was 3rd male overall.  The following members achieved category placings: Lachlan Ross (1st), Wayne Stewart (1st), Nicole Williamson (2nd), Rhonda Jones (2nd), Brian Rix (2nd), & Karen Neal (3rd).
85 members enjoyed the spring conditions at Elephant Park on Wednesday. Congratulations to Kate Wright who was presented with her 25-run medal and to the amazing Glenys Rosser who brought up 700 club runs after 17 years with the club.  Great turnout at the first run of the Junior Spring Racing Carnival on Wednesday.  Well done to Rory Smith who was the winner (15:42).  Placegetters were:
Male:
Brad Simmons (11:31)
Anthony Daintith (11:37)
Edward MacLean (12:07)
Female:
Amber Rich (11:49)
Leanne Corcoran (12:15)
Ursula Wilson (12:49)
This week's PBs were Greg Thornton, Sam Leatham, Clifford Smith, Melissa Smith, Rory Smith, George Hogg, Tom Hosie.
This Sundays run is at Lake Canobolas starting at 9am (2.5, 5, 7.5 & 10K).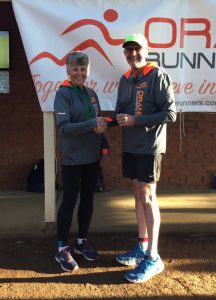 Photo of Glenys Rosser receiving her 700 run medal off Vice President Greg Shapter.  It would be appreciated if this photo could be included as Glenys has been such a vital part of the Club for a long period of time.