CWD : 23rd June 2018
A group of very dedicated members braved not only the snow frost and cold but also the camera at Sunday's relocated run at Endeavour Oval. You can almost feel the shivers in the photo taken on the day. Some very keen members (I'm looking at you Gary Taylor and John Hannan) even mistook Elephant Park for the Gold Coast and were kitted out in shorts. Brrr!
Amber Rich took out the 2.6km, Alison 'Speedy' Spurway took home the 5.2km, Liz Simpson led the 7.8km, while a keen group of 7 didn't let the conditions deter them  with Anthony, Mitch, Joel, Coop, Ursula, Kim and Richard all completing the 4 lap 10.4km. Now that deserves a hot chocolate. Last week's photo feature Barnyard Benton was the winner. Well done all 22 of you (plus 2 Gibsons) who braved that weather!
The sunshine and perhaps a bit of guilt as a result of most of us missing Sunday's run saw a large contingent of 87 members tackle the Elephant Park course. Mel Bolton, the new face on the Orange Running Festival Committee, was in amongst the 13 PBs with an impressive 45 seconds off her time in 17.22.  First females home were Sophie Martin (11:16) – PB, Leanne Corcoran (11:24) – PB and Amber Rich (11:45). Male plaegetters were: Tim Murphy (10:24), Joel Broadfoot (11:00) – PB and Anthony Daintith (11:03) – PB. Greg Thornton was the overall winner.
Congratulations Ethan McCardle (200 runs), Brian Penrose (500 runs) and Emma Flemming for their achievement medals awarded by Club Secretary John Betts. Great to see such fantastic achievements.
Don't forget to register for the Pizza Night on 7 July at the Hotel Canobolas. Looking forward to a catch up with members over a piece of Hawaiian and a lemonade or two.
Sunday we are confirmed at Berilee Road. Let's see how many take on Coop's 12km!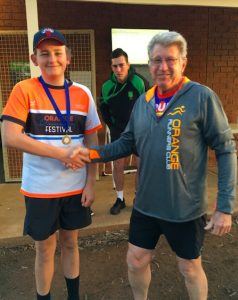 Photo of Ethan McCardle and John Betts with Hugh Daintith lurking in the background.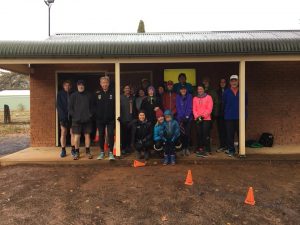 Photo of the dedicated bunch at Elephant Park last Sunday.