CWD 24th April 2021
Iain Mclean receiving his 300 club runs medal. Iain ran an amazing sub-80 half marathon in Canberra a couple of weeks ago.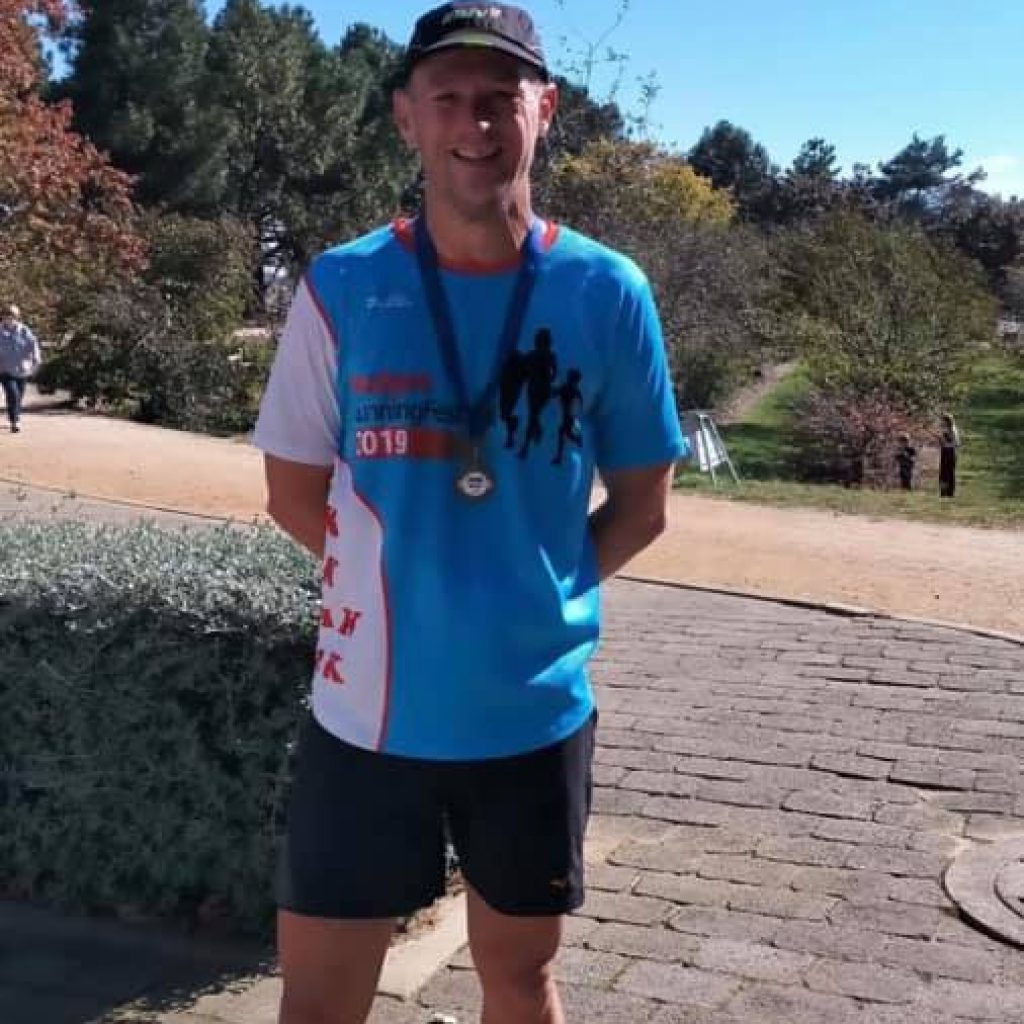 Please do not forget to have your membership renewal completed this week. After the end of April, if you haven't done this, your timing chip will not work until you renew. Prices are as follows: Family $75, Individual Junior $20, Individual Senior $35 and Uni Students $25. Head to our website and click the 'Join Now' button in the top right corner.
Putting out a reminder of the club's AGM. It is on Thursday 13th of May, in the Media room at Hotel Canobolas, beginning at 7pm. After the meeting there will be pizzas provided for those in attendance. Please email President Coop if you plan on coming.
Arriving at the Botanic Gardens last Sunday and having some of the course covered by fog didn't deter 69 members from completing 1 to 6 laps around the Gardens.
The leading club members in each distance were:
1.6km – Female – Talitha Mudge 10:04, Emily Meiring 10:15, Juliette Kuegler 10:45.
Male – Gary Taylor 11:31, Ricard Meiring 11:44, Lachlan Irwin 13:57.
3.2km – Female – Milla Jurd 16:49, Charlotte Meiring 17:10, Kelly Jurd 17:40.
Male – Blake Gleeson 15:33, Logan Whiteley 16:14, Hayden Hyde 17:18.
4.8km – Female – Nicola Blore 22:37, Penny Chandler 25:22, Karen Mudge 27:55.
Male – Hugh Daintith 24:14, Alex Irwin 25:52, Phillip Mudge 37:42.
6.4km – Female – Kelly Gleeson 38:04.
Male – Peter Finlay 25:11, Maxwell Home 29:10, Mike Cooper 31:51.
8km – Female – Courtney Hayes 42:28, Karren Skelton 59:02, Anna Daintith 1:00:42.
Male – Nathan Sutherland 29:48, Richard Hogg 44:42, Bill Fairgrieve 57:17.
9.6km – Female – Luisa Sims 53:41, Jen Owens 53:42, Jane Fairgrieve 1:02:32.
Male – Iain Mclean 38:30, Jack Daintith 38:52, Daryl Roweth 44:57.
On a chilly Wednesday afternoon, 83 members ran or walked around the track at Elephant Park completing 1, 2 or 3 laps. Top three males were Hadden Bennett 10:09, Peter Finlay 10:17 and Iain Mclean 10:52. Completing the top three ladies were Leanne Corcoran 11:42, Nicola Blore 12:35 and Courtney Hayes 13:59.
Personal bests were recorded this week by Hadden Bennett 6s, Nicola Blore 1s, Amy Sullivan 34s, James Thomas 25s, Jon Sieburn 46s, Angela Sieburn 24s and Maxwell Home 21s.
Congratulations to our achievement medal receivers this week: Iain Mclean 300 runs, Sarah Hyde 50 runs and Samantha Pluymers 25 runs.
Tomorrow's (25th April) Sunday run is at Clergate School. Distances marked out are 3km, 5km, 7.5km and 10km. Also putting out a reminder, that we are still operating under COVID-19 regulations. On Wednesdays, timing begins at 4pm and will cease at 5:30pm. On Sundays, you must start between 8.30am and 9am. On both days still encouraging members to arrive, run and depart.
Upcoming Sunday club runs:
2nd May – To be advised
The safety guideline for this week is if you are wearing headphones, you must keep to the side of the road and only listen at a volume level that allows you to respond safely to the sound of approaching runners, vehicles or other hazards.
Race briefs/announcements/presentations are still cancelled – this will instead be done via email and on the Facebook page.
Continue to check the website, Facebook and watch your emails for more information on all club activities and news.