CWD 1st May 2021
Belinda Feeney receiving her medal for 25 club runs.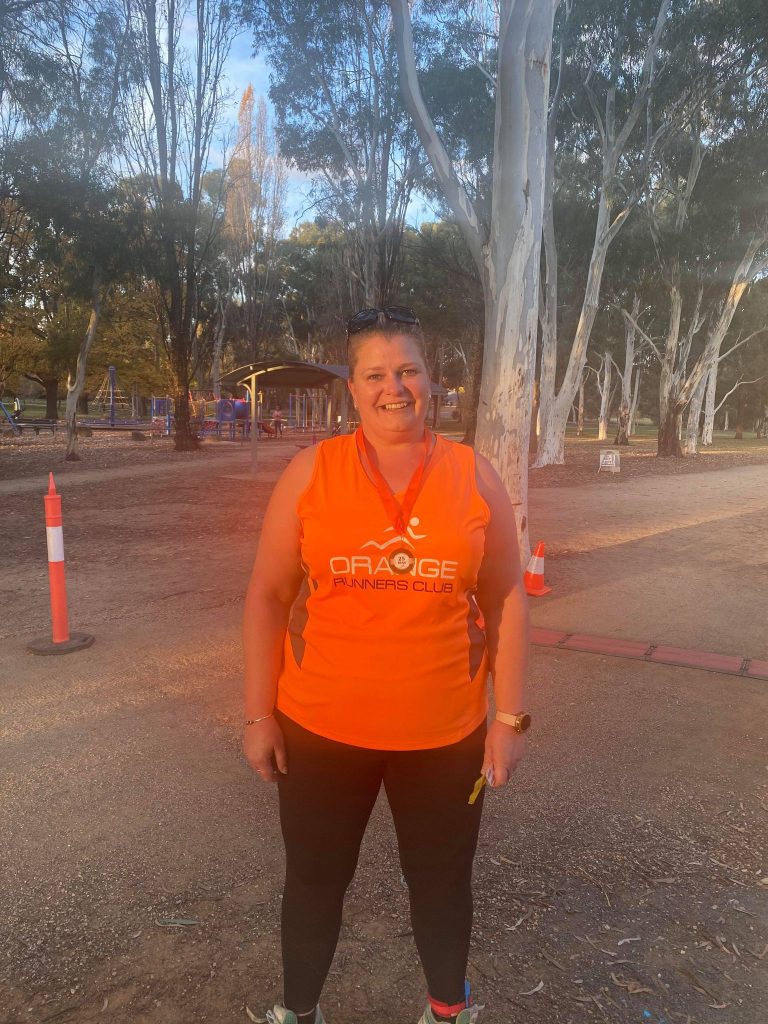 Kinisha Roweth reports.
As the month of April is now over, if you have not renewed your membership and try to use your timing chip at Runners Club it will not register. As soon as you have completed your membership renewal it will work again.
Another reminder of the club's AGM. It is on Thursday 13th of May, in the Media room at Hotel Canobolas, beginning at 7pm. After the meeting there will be pizzas provided for those in attendance. Please email President Coop if you plan on coming.
68 runners headed out the dirt road from Clergate School last Sunday (25th April). It was a gorgeous sunny morning although there was a slight wind chill.
The leading club members in each distance were:
3km – Female – Mindy Smith 19:29, Maddie Fisher 29:37, Helen Roberts 31:11.
Male – Iain Mclean 12:20, Hayden Hyde 16:47, Craig Penrose 18:15.
5km – Female – Georgina Haigh 26:45, Claire Gates 29:44, Sally Postma 30:02.
Male – David Craig 25:06, Mike Cooper 27:03, Stephen Blackwood 27:59.
7.5km – Female – Kelly Jurd 43:52, Maree Moss 50:49, Lyn O'Mara 55:57.
Male – Brad Simmons 34:02, Peter Hyde 37:53, Clive Blore 38:26.
10km – Female – Bec Davis 50:05, Nicola Blore 51:37, Alicia Anlezark 53:49.
Male – Peter Finlay 42:08, Nathan Sutherland 45:50, Daryl Roweth 49:40.
It was a beautiful evening on Wednesday (28th April) for 80 members to run or walk around the track at Elephant Park, completing 1, 2 or 3 laps. Top three males were Peter Finlay 10:19, Iain Mclean 10:58 and Derek Thompson 11:05. Completing the top three ladies were Leanne Corcoran 11:57, Nicola Blore 12:19 and Jocelyn Blair 13:41.
Personal bests were recorded this week by Nicola Blore 16s and Amy Sullivan 43s.
Congratulations to our achievement medal receivers this week: Belinda Feeney 25 runs.
Tomorrow's (2nd May) Sunday run is at Shiralee. Distances marked out are 2km, 4km, 8km and 12km. Also putting out a reminder, that we are still operating under COVID-19 regulations. On Wednesdays, timing begins at 4pm and will cease at 5:30pm. On Sundays, you must start between 8.30am and 9am. On both days still encouraging members to arrive, run and depart.
Upcoming Sunday club runs:
9th May – Gosling Creek
16th May – Berrilee Road
23rd May – Stagecoach Road
30th May – Bargwanna Road
The safety guideline for this week is: should you have an injury or medical condition, seek advice and act on the recommendations of an appropriate medical professional before you participate.
Race briefs/announcements/presentations are still cancelled– this will instead be done via email and on the Facebook page.
Continue to check the website, Facebook and watch your emails for more information on all club activities and news.