CWD : 27th April 2019
Last Sundays run was at Lake Canobolas with a choice of 1 to 4 laps (2.5km each lap).
Presentations was made to Sue Betts for 200 club runs.
Congratulations to Marie Regan who was the handicap winner.
2.5k
Connor and Logan Whiteley couldn't be split in the 2.5k in a time of 11.43. Just behind is the fast improvement Kelly Gleeson in a time of 13.49. Donna Irwin was the next lady over the finish line in 15.57.
5.0k
It was young gun Blake Gleeson first in the 5km in a smart time of 24.37, just one second ahead of Hughie Corcoran. Then it was a Dean girl trifecta, with Abby 25.59, just ahead of Jessie 26.00 and Molly 26.41.
7.5k
Plenty of experience at the head of the 7.5k field with Amber Rich 35.57 first home ahead of Estelle Dean 38.29. Gareth Thomas first gent in a time of 39.29, ahead of Peter Regan 43.44 and Mossy 44.20.
10.0k
Iain McLean a clear winner in the 10k with an impressive 52.33, then Noel Annett 48.45 and Ian Spurway 48.57. Leanne Corcoran 46.23 was again the distance queen ahead of Kinisha Roweth 53.04 and Alison Spurway/Alicia Anlezark just over 57 mins.
Beautiful running conditions again greeted members at Elephant Park on Wednesday afternoon. Congratulations to Peter Regan who was the handicap winner today with a time of 14.12. Welcome to the club Pavel Melnichuk and Ben Bartlett who ran their first run with the Club.
Congratulations to Gary Taylor who received his 1900 run achievement medal. Gary has been with the Club for a very long time and the achievement is a testament to his longevity and determination (only 100 to go Gary!).
Placegetters this week:
Ladies:
1. Leanne Corcoran 11.24
2. Carissa Hickey 11.35
3. Liz Simpson 11.53
Gentlemen
1. Connor Whiteley 9.13
2. Mitch Williamson 9.14
3. Lachlan Ross 11.04
PBs this week were recorded by Michael Halls (2min19sec), Carissa Hickey (16 secs), Andrew Napier (2 secs) and Kelly Jurd (11 secs).
Tomorrow's run will be at Botanic Gardens with a choice of 6 distances (1.6k 1-6 laps).
Don't forget to pay your membership by the end of the month. Also, the uniform order is still open for anyone wanting to add to their wardrobe.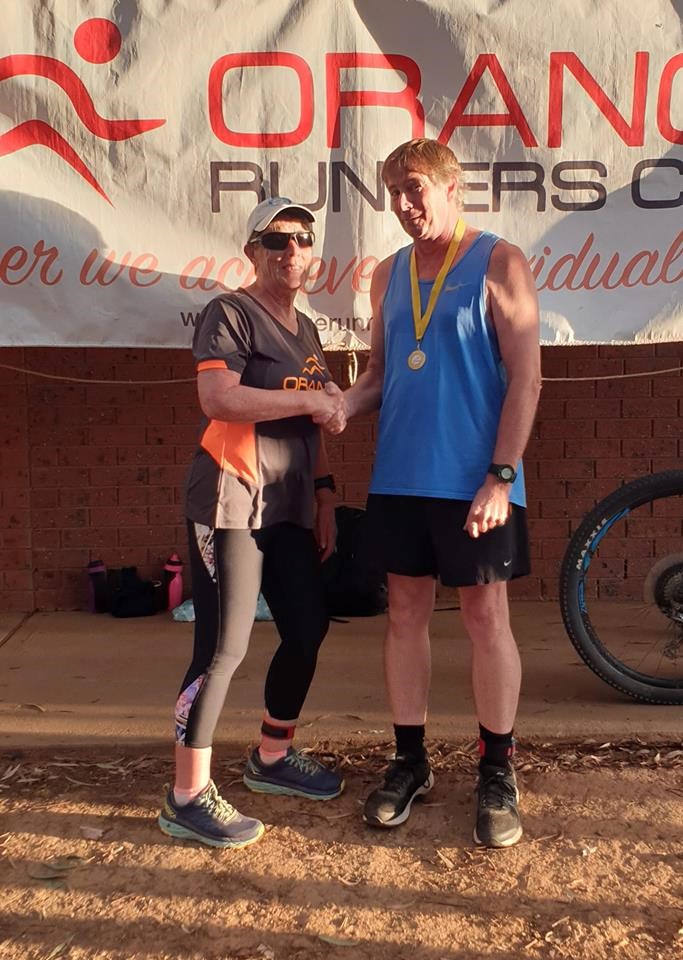 Photo of Gary Taylor receiving his 1900th run achievement medal off Club Treasurer Judy Tarleton.