CWD 3rd April 2021
Nicola and Clive Blore.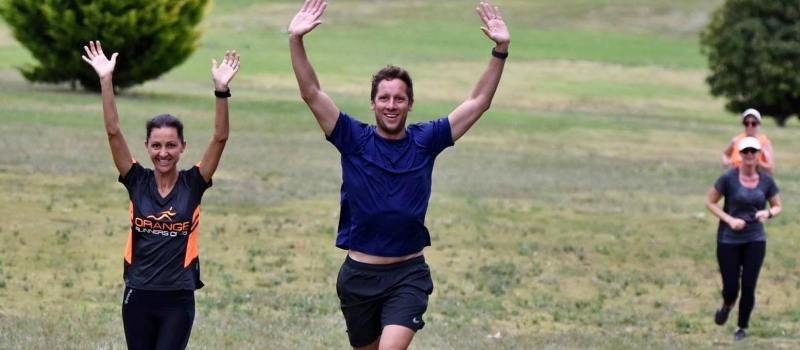 Kinisha Roweth reports.
Well done to all members who attended the Great Volcanic Challenge last Sunday. We had excellent attendance in the 3km, 5km and 11km. The weather was pretty exceptional for running, although some parts of the course were a little difficult due to erosion, sitting and running water. A big thank you to Michael Sharp and John Hannan who did brilliant work, timing the event.
The leading club members in each distance were:
3km club run – Female – Nicola Blore 15:03, Kim Roweth 34:51, Kinisha Roweth 34:51.
Male – Brad Simmons 14:35, Daryl Roweth 14:35, Tobias Grady 46:19.
5km Great Volcanic Family challenge – Female – Ursula Wilson 28:57, Alicia Anlezark 30:01, Emily Meiring 33:23.
Male – Hugh Daintith 25:31, Anthony Daintith 27:06, Edward Farquharson 34:50.
11km Great Volcanic Mountain Challenge – Female – Bec Davis 1:14:52, Ayako Kusui 1:20:17, Kate Thornton 1:30:25.
Male – Miller Rivett 59:15, Jack Daintith 1:01:40, Joel Broadfoot 1:04:22.
On Wednesday, it was a gorgeous afternoon for 68 members to run or walk around the track at Elephant Park completing 1, 2 or 3 laps. Top three males were Hadden Bennett 10:31, Peter Finlay 10:35 and Jack Daintith 10:39. Completing the top three ladies were Leanne Corcoran 12:06, Nicola Blore 12:36 and Elizabeth Simpson 12:42.
Personal bests were recorded this week by Maree Moss 7s, Hadden Bennett 5s, Benjamin Hill 39s, Madeline Hill 6s, Sarah Passey 4s, Nicola Blore 4s, Samantha Pluymers 4s, Courtney Hayes 5s and James Thomas 18s.
Congratulations to our achievement medal receivers this week: George Rutledge 50 runs
Tomorrow's Easter Sunday run is at Endeavour Oval. We will be doing the 2.5km loop with the option to do one to four laps, meaning the maximum is 10km. Easter treats will be on offer for those who finish. Also putting out a reminder that we are still operating under COVID-19 regulations. On Wednesdays, you need to start and finish your laps between 4pm and 5.45pm. On Sundays, you must start between 8.30am and 9am. On both days still encouraging members to arrive, run and depart.
Upcoming Sunday club runs:
11th April – Favell Road
18th April – Botanic Gardens
25th April – Clergate School
The safety guideline for this week is: if you hear or see a runner/walker approaching behind you, maintain your current course without stopping or stepping to one side. The person approaching from behind will then be able to pass you without a collision. Parents are encouraged to explain this to their children.
Final reminder for anyone going to Canberra for the running festival. We are having an ORC lunch on Sunday the 11th after the running has been done. If you are interested in attending, please contact Daryl or Judy on the numbers advised in the email.
Race briefs/announcements/presentations are still cancelled– this will instead be done via email and on the Facebook page.
Continue to check the website, Facebook and watch your emails for more information on all club activities and news.