CWD : 3rd November 2018
Last Sunday we had our biggest turnout for a trail run at Mitchells Way. 27 members took on the challenging 6 and 10k courses (and quite a number of first timers). Well done to Ursula Wilson and Daryl Roweth first home in the 6k and Alison Spurway and Iain McLean first home in the 10k.
Our normal 9am run was at Bargwanna Road where Lynn O'Mara was declared the winner, completing the 5k in 39:53.
3km:
Amber Rich (13:02), Linda Corben & Tanya Connolly
David Craig (15:49), Max MacLean, Brian Penrose
5km
Leanne Corcoran (22:53), Karen Neal, Belinda McCauley
Noah Lamrock (21:28), Iain McLean, Blake Gleeson
10km
Liz Simpson (47:58), Ursula Wilson, Renai McArdle
Anthony Daintith (45:09), Nick Carney, Tim Murphy
A massive turnout of 108 members enjoyed the warm conditions at Elephant Park on Wednesday afternoon.  Presentations were made to Pip Farquharson (50 runs), Lachlan Ross (300 runs) and Stewie Vidler (500 runs).  Special presentation made to our life member Robyn Cotten who was presented with her 75 run medal.  But it was all about the Junior Spring Racing Carnival as the kids ran their hearts out over 1, 2 or 3 laps.  Sereena Hughes was the winner with a time of 16.11.  Overall placegetters were:
Male:
Connor Whiteley 10.08
Rikky Bangert 10.24
Iain McLean 11.03
Female:
1. Carissa Hickey 12.25
Lily Craig 12.41
Ursula Wilson 12.42
Melissa Fogarty, Julie Tooth, Sereena Hughes, Linda Corben, Jai Anlezark and Laurie Montague achieved awesome PBs this week.
Tomorrows run is at Jack Brabham (1.75km 1-6 laps).  Best of luck to those members competing in the Carcoar Cup tomorrow.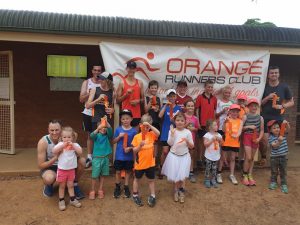 Photo of placegetters in the Junior Spring Racing Carnival held on Wednesday.