CWD : 10th November 2018
Orange Runners Club were split all over the country side last Sunday.  There was the usual club run at Jack Brabham, the Carcoar Cup and some of our elite trail runners taking on the 4 Peaks challenge in Victoria.
Congratulations to Tanya Connolly who was presented her 600 run medal at Jack Brabham – after many years with the Club definitely well deserved!  Well done to Carol Moss who was declared the winner for the run.
1.75km
Female: Melissa Fogarty (9:49)
Male: Brian Penrose (11:23)
3.5km
Female: Tanya Connolly (19:30)
Male: Craig Penrose (20:27)
5.25km
Female: Yolanda Zhao (33:56)
Male: Jamie Corcoran (27:16)
7km
Female: Karen Neal (35:48)
Male: Mitch Essex (39:42)
10.5km
Female: Leanne Corcoran (51:04)
Male: Tim Murphy (44:55)
It was the best of the best who took on the wet track at Elephant Park on Wednesday afternoon. Well done to Nick and Lachlan Irwin who were presented their ribbons from the JSRC. Congratulations to George Hogg who was the winner with a time of 16:18. Place getters this week were:
Female:
1. Leanne Corcoran 12:21
2. Kelly Gleeson 13:55
3. Kate Thornton 14:57
Male:
1. Anthony Daintith 11:10
2. Hugh Daintith 12:05
3. Ed MacLean 12:44
Congratulations to Aaron Jones who achieved a huge 26 sec PB today – down to 14:52.
NSW Regional Distance Running Championships finished last weekend with the running of the Carcoar Cup.  As expected, the Club did exceptionally well over the 6 events throughout the year.
In the overall placings, congratulations to Sam Collins and Ursula Wilson who both finished 3rd.  Well done to the following members who achieved age category placings:
1st Luisa Sims
1st Acedia Weltschertz (Coop)
2nd Daryl Roweth
2nd John Betts
3rd Mitch Williamson
3rd Iain McLean
3rd Nicole Williamson
Tomorrows run is at Berrilee Road (4k, 8.1k & 12k).  Best of luck to those members competing in the Panorama Punish tomorrow.
Don't forget to register online for the Christmas Party/Presentation by the 21 November.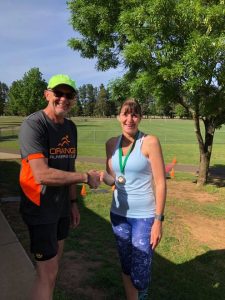 Photo of Tanya Connolly presented with her 600 run medal from Club Vice President Greg Shapter