CWD : 17th November 2018
Well done to our members that challenged themselves last Sunday morning with one hot lap at the Mount Panorama Punish.  Our normal club run was held at Berrilee Road. Coop took his course marking role too seriously this morning and ended up with a little less skin that when he started – thanks to Dr James for assisting in putting him back together. Great to have an international guest today with Kiwi's dad Trevor making the trip across the ditch.
After all the excitement, we took off up our own little hill for 4, 8 or 12 k journeys.  Mia Essex was the winner today running the 4k in 36:29.
In the 4km, Linda Corben (22:36) held of Tanya Connolly and Melissa Fogarty, whilst in the gents John Connolly (20:49) was only 7 seconds ahead of Kim Anlezark with Michael Sharp coming in third.
Rachel Wilkins powered ahead in the 8.1k finishing in 47:08, well clear of Belinda McCauley and Jane Fairgrieve. Iain McLean (34:56) fresh off competing in the 4 Peaks in Victoria was first home ahead of fast improving Mitch Essex and Hugh Daintith.
A newly designed 12km course included nearly 300m of climbing which just added to the challenge. Anthony Daintith was first home in a time of 55:44. Daryl Roweth and Joel Broadfoot were the next to conquer the course. There were no ladies that competed the long course this week.
We had a usual 3km handicap run on Wednesday afternoon. Congratulations to Sam Leatham who was the winner with a time of 17:04.  Welcome to Tabitha Jones, Lyn Rummery and Lynne Buckley who had their first run with the Club on Wednesday.
This week in the men, Iain McLean and Nick Carney couldn't be split finishing with a time of 10:50 (Iain ran each lap at 3:36!) followed by young gun Rikky Bangert in a time of 11:00.  In the ladies it was Leanne Corcoran coming back into form with a time of 11:39, followed by the ultra consistent Carissa Hickey (12:16) and Lily Craig in a time of 13:00.
Melissa Fogarty (1 sec), Michael O'Mara (20 sec), Julie Tooth (1 min 2 sec), Alicia Anlezark (14 sec), Laurie Montague (50 sec), Sarah Ulrich (4 sec) and Zoe Jones (2 mins 20 sec) all ran personal bests this week.
For the adventurous types we have our next trail run in the morning at Fourth Crossing with  5k and 13k course options.  The usual 9am run will be a new course starting a Shiralee Road (4k, 8k & 12k).
Don't forget to register online for the Christmas Party/Presentation by the 21 November.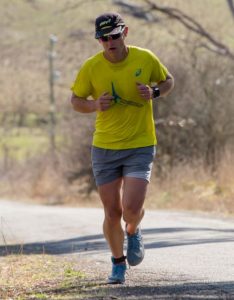 Photo of Iain McLean – first place Wednesday and Sunday runs.