CWD : 24th November 2018
15 members took on the Fourth Crossing Trail Run early last Sunday morning.  In the 13k Joel Broadfoot was first home in a time of 1:19:14 closely followed by Rikky Bangert 1:21:21 and Tim Murphy 1:25:03.  Whilst in the 5k, Kietta-Raye Shaw was the first lady home in 38:35 just ahead of Alicia Ross. In the gentlemen, Anthony Daintith was first home in 25:00, followed by Lachlan Ross 30:15 and Jack Daintith 30:54.  Thank you to Iain McLean for been the Run Director for the day.
We had our first Shiralee Run last Sunday. Well done to Carissa Hickey who was presented her 25 run medal and to Hugh Daintith his 600th run medal.
The 4k was hotly contested with Brad Simmons (17:10), holding off the fast finish of Amber Rich (17:33) and Hugh Daintith (17:46).  In the 8k, it was Leanne Corcoran running two nearly identical laps (36.29) to just finish ahead of Jared Sullivan (37.05). Well done to Joel Broadfoot who backed up from Fourth Crossing to finish 3rd in 39.57.  In the 12k, Anthony Daintith was first home in 52:04.  However, it was Jai Anlezark (who is only 12 years old) who received the toughness award today for coming in second in a time of 1:10:54, just ahead of mum Alicia in a time of 1:11:10.  The overall winner was Brian Sharp.
The mucky conditions didn't deter 53 members taking on Elephant Park on Wednesday afternoon. Congratulations to Sam Thornton on receiving his 50 run medal today.
Well done to Lynne O'Mara who was the winner.
It was Nick Carney who flew around the course in a time of 10:41 (PB).  Nick was closely followed by Iain McLean (10:52) and Anthony Daintith (11:21).  In the ladies, Leanne Corcoran (11:49) was first over the line.  Carissa Hickey (12:12) just snuck home ahead of the birthday girl Alicia Ross (12:13).  Julie Tooth (6 secs), Will Miller (41 secs) and Nick Carney (1 sec) all achieved personal bests this week.
Tomorrow we are at Gosling Creek with a choice of 2.3k, 4.6k, 8k and 11.5k distances.
Don't forget to register online for the Christmas Party/Presentation by Sunday night.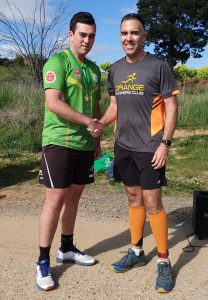 Photo of Hugh Daintith been presented his 600 run medal by Club President Anthony Daintith.