CWD : 1st December 2018
70 members enjoyed the beautiful scenery at Gosling Creek this morning. Presentations of medals were made to Ian Fischer (25), Bec Davis (25) and Renai McArdle (300). Well done to Ian Fischer who was the winner today running 11.5k in a tick over an hour.
RESULTS
2.3k
Female: Liz Simpson (9:31)
Male: Rikky Bangert (8:28)
4.6k
Female: Milla Jurd (23:35)
Male: Brad Simmons (20:25)
8k
Female: Mel Smith (54:31)
Male: Anthony Daintith (37:55)
11.5k
Female: Leanne Corcoran (53:38)
Male: Nick Carney (51:42)
After the earlier downpour, the conditions cleared up thankfully for a run around Elephant Park on Wednesday afternoon. Regardless of the damp track 40 members enjoyed the afternoon. Congratulations to Sophie Broughton was declared the winner. Sophie's time today was 20:16.
Jared Sullivan burned up the track today in a time of 10:46 and was followed by Anthony Daintith and Iain McLean both on 11:37.
Leanne Corcoran ran a consistent 11:46. Carissa Hickey (12:35) was next home and then Ursula Wilson 13:04.
Great to see Jai pushing Hugh in the junior boys and I hear that there is some friendly rivalry in the senior boys (Mossy and Greg??)
There was only 1 PB this week – well done Will Miller who ran 13:46 (3 sec improvement).
We have our annual presentation and Christmas party at the Orange City Bowling Club starting at 4pm.
Tomorrow we are at the new course at Highland Heritage Estate (2km 1-5 laps) followed by morning tea or wine tastings.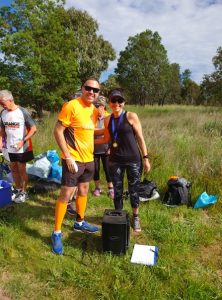 Photo of Renai McArdle been presented her 300 run medal by Club President Anthony Daintith.