CWD 3rd October 2020
Sarah Passey likes to explore beyond the marked out course but safely returns.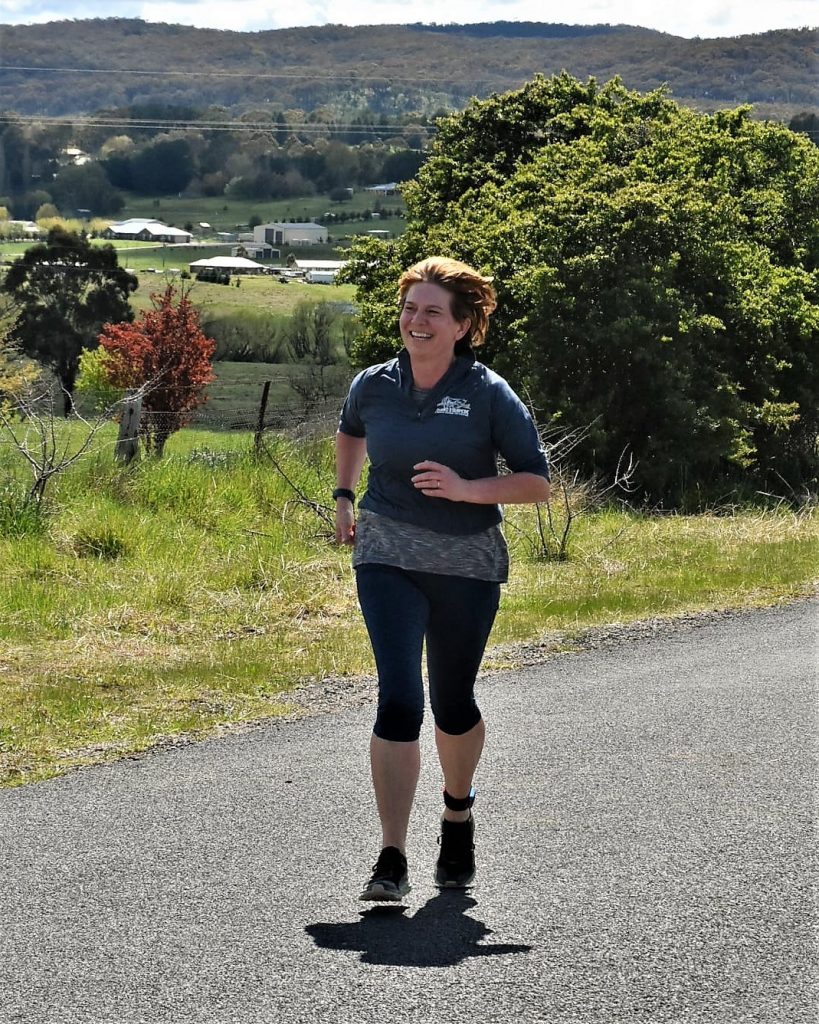 Kinisha Roweth reports:
We had fantastic weather last Sunday for our run at Bulgas Road. Many members and a couple of visitors enjoyed the distances that were marked out. Special mention to Sarah Passey who almost made it to Bathurst before thinking she should turn around and head back as she couldn't see anyone else and couldn't see any distance markings on the ground – 16ish kilometres later and she made it back to the timing mat.
The leading runners over the distances were:
3km – Female – Debbie Paul 16:56, Marie Regan 20:22, Kinisha Roweth 29:19.
Male – Jack Daintith 11:23, Piers Galvin 12:07, Andrew Galvin 15:52.
5km – Female – Claire Gates 30:37, Sally Postma 32:07, Claire Blair 32:11.
Male – Mark Thomas 26:45, Daryl Roweth 26:55, Jim McGowan 28:42.
10km – Female – Nicola Blore 51:41, Ayako Kusui 55:21, Alison Spurway 59:44.
Male – Sam Harma 41:49, Phil Cranney 49:08, Anthony Daintith 52:29.
14km – Female – Sarah Passey 1:46:07.
Male – Ian Spurway 1:11:56, Warwick Blackwell 1:11:56.
At Elephant Park on Wednesday night, we had 41 members completing 1, 2 or 3 laps with the rain holding off for us to run.
Top 3 for the males this week was: Jack Daintith 9:39, Hugh Daintith 12:10 and Anthony Daintith 13:02. Top 3 for the Female runners we had: Leanne Corcoran 12:07, Nicola Blore 13:08 and Karen Mudge 14:42. We had 5 PB's this week; Jack Daintith another 9 seconds off to 9:39, Claire Gates has taken a big 31 seconds off for this encouraging young lady, Frank Salmon-Meek 6 seconds down to 15:36, Dexter Bartrom and Zachary Bartrom knocking off 40 seconds and 14 seconds respectively.
This Sunday's run is at Berrilee Road with 2, 4, 8 and 12km distances marked out. Please keep an eye on the facebook page and your emails in case this is changed. Please continue to follow the recommendations of essentially arriving, running and then going home, minimising the social contact. You can start your run between 8:30 and 9am.
Upcoming Sunday Club runs:
October 11 – Clergate
October 18 – Bloomfield golf course (including a 14km for the Virtual City2Surf)
October 25 – Jack Brabham
Race briefs/announcements/presentations are still cancelled– this will instead be done via email and on the facebook page. We are looking at getting a notice board to be put up at runs with important info to see before/after you run.
The Orange Runners Club clothing shop is live until the 14th of October, head to https://www.registernow.com.au/secure/Register.aspx?E=40997 to put your order in.
Throughout September ORC has been focused on clocking up some kilometres running or walking for a very good cause. The Long Run is an initiative of the Prostate Foundation of Australia to raise awareness and money to support men and their families impacted by prostate cancer. ORC members have blitzed their targeted distances and have so far raised $3,497. A heartfelt thank you and congratulations to all those who have donated or participated. Nationally $1,444,379 has been raised to date. Although it is now October, online donations are open until the 16th of October, head to www.thelongrun.orgau/fundraisers/orangerunnersclub to add your contribution.
Continue to check the website, facebook and watch your emails for more information on all club activities and news.
Information provided by Kinisha Roweth.