CWD : 8th September 2018
Orange Runners Club held its 40th Anniversary dinner last Saturday night at Duntryleague Golf Club with over 100 guests in attendance.
Guests were entertained by great speeches from Life Members, Michael Sharp, Jane Fairgrieve and Gary Williams.  Jason Belmonte was a tremendous guest speaker for the evening taking us on a journey from Orange to conquering the world.  The dinner would not have been possible without the efforts of the Committee and in particular Judy Tarleton and Jane Fairgrieve.
Last Sunday morning, 70 members took on Botanic Gardens in greatly improved weather conditions than the past fortnight.  Well done to our Father's Day winners, John Hannan, Michael O'Mara, Brian Sharp and Mike Cooper.  Congratulations to Liz Simpson who was declared the winner.  On the track, well done to the following first place getters:
1.6k -Stewart Vidler (8:41) & Sally Kitto (12:42)
3.2k – Rikky Bangert (12:09) & Amber Rich (13:40)
4.8k – Fred Bangert (22.45) & Man Ha Mackay (34:09)
6.4k – Brad Simmons (28:19) & Liz Simpson (29:52)
8.0k – Alicia Ross (38:52) & John Moss (51:51)
9.6k – Sam Collins (37:36) & Renai McArdle (57:10)
Well done to our members Iain McLean (3:07), David Ross (3:27), Alison Broughton (4:01), Adam Reeves (4:04) and Melissa Smith (5:24) who completed the 30k Coastal Classic at the Royal National Park on Saturday.
On Wednesday afternoon, 88 members attended Elephant Park.  Congratulations to Henry McWhirter and Rhonda Jones who were both presented their 25 run achievement medals.  Congratulations to Ryan Clark who was declared the winner.  Place getters this week at Elephant Park were:
Male:
Mitch Williamson (8:37)
Connor Whiteley (9:13)
Lachlan Ross (10:53)
Female:
Nicole Williamson (11:16)
Carissa Hickey (12:10)
Luisa Sims (14:27)
Junior Spring Racing Carnival is back!  It will be held on the last Wednesday of September (26th), October (31st) and November (28th).  Great opportunity for our talented junior runners to run against other junior members in their own age group (more information to be sent out to members very shortly).
Our next trail run (6:45am briefing for a 7:00am start) is on this Sunday morning out at Macquarie Woods (off the Mitchell Highway).  There will be a short course (6.5km) and a longer course (11km).
The usual 9am run will be at Favell Road (starting at Byng Church).  There is a 3, 5.5, 8.1 and 11.2km distances.
Anthony Daintith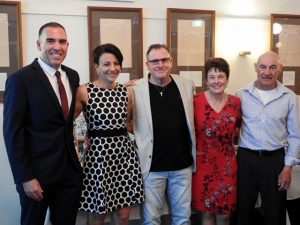 The 5 Presidents in attendance (L to R): Anthony Daintith, Renai McArdle, Frank Ostini, Jane Fairgrieve, Gary Williams.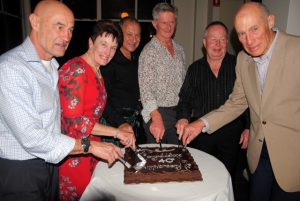 The Life Members cutting the cake include (L to R): Gary Williams, Jane Fairgrieve, Bill Fairgrieve, Mike Cooper, Graham Fahy, Michael Sharp.