CWD: 1 June 2019
EDITORIAL REPORT FOR SATURDAY June 1, 2019
Last Sunday 74 Club members ventured out to the Clergate School to get in their usual Sunday club run with the added bonus of enjoying something from the BBQ or a cake or slice supplied by the schools P&C fundraising committee after the run. This proved quite popular with even one dog enjoying his own egg and bacon roll after completing his morning run.
The fastest across the three distances and their times were:
Female
3km – Milla Jurd 13:21, Lucy Jurd 16:05 and Claire Blair 16:35.
5km – Leanne Corcoran 20:08, Amber Rich 21:00 and Kinisha Roweth 25:24.
10km – Alicia Ross 50:10, Luisa Sims 54:02 and Alison Spurway 57:33.
Male
3km – Lachlan Coutts 17:00, Gary Taylor 19:08 and Brian Penrose 21:57.
5km – Hugh Daintith 21:40, Logan Whitley 23:41 and Charlie Brown 24:11.
10km – Chris Harrington 39:46, Iain McLean 42:49 and Tim Murphy 43:38.
The overall handicap winner was Trent Brown who ran the 5km distance in a time of 29:58.
At Elephant Park on a very wet Wednesday night 31 runners and walkers braved the elements in an attempt to beat the clock. Conditions on course got worse as the run went on but the runners would not be deterred.
Iain McLean 11:07 recorded the fastest time, but Fred Bangert emerged from the shadows of his kids to put down a fast 11:58, which was second fastest and also gave him the overall handicap win.  Hugh Daintith was less than 10 seconds behind in third place.
Carrisa Hickey 12:07 was the fastest female and fourth fastest overall. Two young up and coming young runners Lily Bangert 13:19 and Milla Jurd 13:22 were the second and third fastest females respectively.
Given the testing conditions there were no PB's set on the night.
The Club run will be at Kinross Lane, Clifton Grove this Sunday with distances including 2, 4.8, 9 and 11.5km's.
For more information on events and results check out the website 'www.orangerunners.com.au'.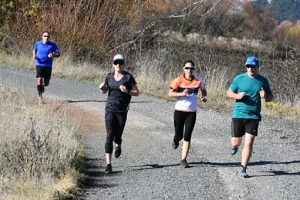 Information provided by Daryl Roweth