CWD, 25 May 2019
Last Sunday saw 65 Club members tackle the picturesque, although a little low, Spring Creek Dam course.
We saw some very impressive running especially from the UTA runners who were backing up from their races earlier in the weekend.
The fastest across the four distances and their times were:
Female
2.4km – Amber Rich 10:02, Lucy Jurd 14:30 and Claire Gates 16:49.
4.8km – Leanne Corcoran 22:46, Milla Jurd 24:55 and Kelly Jurd 28:11.
7.2km – Rosemary Elkington 42:57, Claire Blair 43:04 and Leanne Palmer 48:26.
9.6km – Alicia Ross 45:14, Kinisha Roweth 51:24 and Alicia Anlezark 51:41.
Male
2.4km – Blake Gleeson 11:21, Nick Irwin 14:10 and Brian Penrose 17:03.
4.8km – Jai Anlezark 21:05, Hugh Daintith 21:07 and Duncan Blair 22:52.
7.2km – James West 34:09, Paul Anderson 34:56 and Scott Bebbington 35:57.
9.6km – Iain McLean 41:48, Anthony Daintith 43:20 and Andrew McCauley 47:52.
The overall handicap winner was the consistent running machine,  Alicia Anlezark, who has been excelling over the longer distances.
Club members competed at external events last weekend at 'The Great Wall Marathon' in China and the UTA Trail runs in the Blue Mountains.
Besides enjoying the experience of the trip to China, there were also some great results for the affectionately named Wombat Warriors in the China Marathon with Ian Spurway 5:18.17, Alison Spurway 5:52.28, Renai McArdle 6:35.02, Pam Fullgrabe 7:14.19, Martin Ryan 7:14.20 and Yolanda Zhao 7:28.27.
In the tough UTA races some outstanding results were recorded by a large Runners Club contingent. Leading the way in the 22km distance was Iain McLean 2:15.08, and also included Anthony Daintith 2:29.16, Kate Thornton 3:13.48, Jamie Corcoran 3:22.59, Dani Syme 3:25.21, Bec Davis 3:25.34, Mindy Smith 4:01.51, Kietta-Raye Behrendorf 4:25.09 and Sue Betts 5:16.21.
Over the arduous 50km course, Sam Collins raised over $11,000 for his work colleagues chosen charity, 'Dreams2live4', was the fastest of our team of runners in 5:57.56. Also running well were Leanne Corcoran 6:15.05, Mitch Essex 6:42.31, Joel Broadfoot 6:45.50, Adam Reeves 7:37.19, Caroline and Scott Hazelton 7:44.33, Alison Broughton 8:04.55, John Betts 9:30.49, Lauren Beels 10:03.47 and Melissa Smith 10:34.52.
Brett Sammut took on the 100k race but unfortunately finished after an astonishing 84kms (17h13m) after suffering an eye injury. Hope you are on the mend mate.
At Elephant Park on Wednesday John Betts was awarded on his 400th club run in front of the 100+ club members before the run got underway. The ideal weather for running saw 12 people record Personal Bests including the handicap winner James West who ran a very strong 12:12 for a 2 second PB.
Fastest runners on the night were:
Men – Mitch Williamson 10:10, Hugh Corcoran 10:30 (23s PB) & Hadden Bennett 11:18.
Female – Carissa Hickey 11:28 (7s PB), Leanne Corcoran 11:32 & Alicia Ross 11:44 (2s PB).
Other PB's were recorded by Oliver McLean 1m15s, Keagan Wilson 1m28s, Fred Bangert 12s, Alison Rodgers 23s, Adelle Brydon-Brown 1m17s, Connor Bennett 39s, Charlie Brown 26s, Andrew Napier 2s and Luisa Sims 24s.
The Club run will be at Clergate School on Sunday and I hear there will be a cake stall running for those looking to refuel after the run.
A quick reminder that early bird entries close this Friday 31st May for the Dubbo Stampede (event on 25th August).
Information provided by Daryl Roweth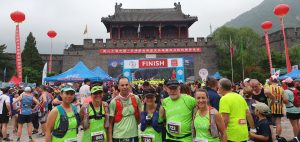 Photo of our 'Wombat Warriors' runners who took on the Great Wall Marathon in China. From left to right: Yolanda Zhao, Renai McArdle, Ian Spurway, Pam Fullgrabe, Martin Ryan & Alison Spurway.