CWD 17th October 2020
The Mudge family enjoying a recent run. Pictured are Dad, Phillip with children Abigail, Talitha and Caleb, while mum Karen missed the photo as she usually enjoys running one of the longer distances.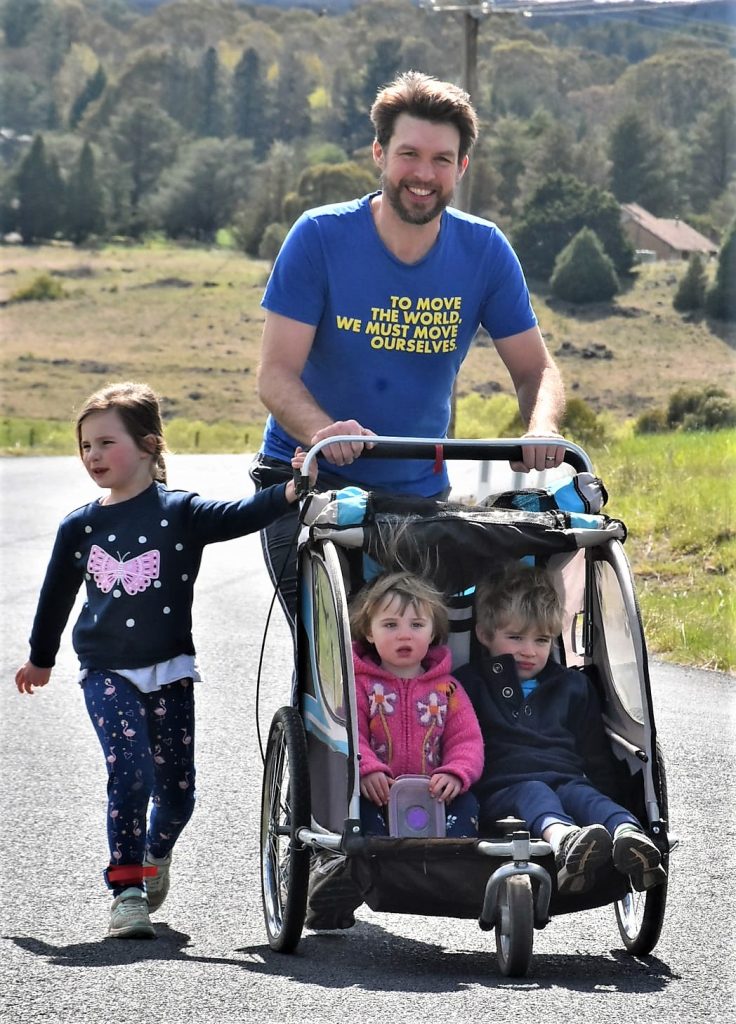 Daryl Roweth reports:
Last Sunday 60 ORC members ventured out to Clergate for the morning club run in almost perfect running conditions. John Moss had marked the course with his artistic flair and Michael Sharp had the timing equipment ready and the runners and walkers did their thing with the leading runners over the various distances being:
3km – Female – Lucy Jurd 20:26, Denise Quinlan 28:34, Justine Neville 29:00.
Male – Mike Cooper 15:19, Nick Bolton 22:01, Hayden Bolton 22:11.
5km – Female – Kelly Gleeson 26:25, Bridget Cockburn 28:15, Sally Postma 28:35.
Male – Will Miller 23:49, Blake Gleeson 26:01, Steven Wensley 26:19.
7.5km – Female – Kinisha Roweth 42:34, Kelly Jurd 45:09, Kim Roweth 55:05.
Male – Tony Fitzpatrick 40:09, Daryl Roweth 42:34, Alistair Merrifield 42:40.
10km – Female – Luisa Sims 57:29, Alison Spurway 59:16, Karen Mudge 1:00:36.
Male – Warwick Blackwell 46:16, Anthony Daintith 53:20, Mark Thomas 55:32.
Hayden Bolton topped off a good day out by picking up his milestone medal for 75 club runs.
At Elephant Park on Wednesday night, we had 68 members completed 1, 2 or 3 laps in warmer conditions with runners working up a bit of a sweat.
The top 3 for the males this week were, Iain McLean 10:41, Cameron Ross 11:27 and Jai Anlezark 12:29. Top 3 for the Female runners we had Leanne Corcoran 11:51, Alicia Anlezark 13:19 and Luisa Sims 14:33. Leading the Personal Bests were Cameron Ross 1m12s, Tony Fitzpatrick 20s, Hamish Hill 3m39s, Benjamin Hill 2m37s, and Mark Thomas 25s.
This Sundays run is at Bloomfield golf course, with 1 – 4 laps of a 3.5km circuit (which will include a 14km for the Virtual City2Surf).
Please continue to follow the recommendations of essentially arriving, running and then going home, minimising the social contact. You can start your run between 8:30 and 9am.
Upcoming Sunday Club runs:
October 25 – Jack Brabham
November 1 – Highland Heritage
November 8 – Pinnacle (including Great Volcanic Course)
November 15 – Stagecoach Road
Race briefs/announcements/presentations are still cancelled– this will instead be done via email and on the facebook page.
Continue to check the website, facebook and watch your emails for more information on all club activities and news.
Information provided by Daryl Roweth