CWD 24th October 2020
A lovely bunch of members running together at the new track around Bloomfield golf course.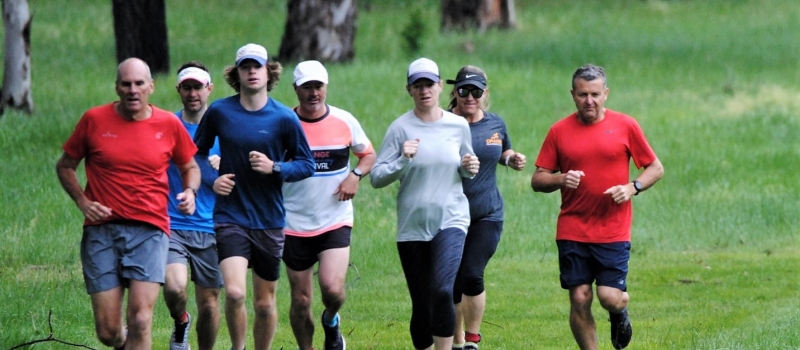 Kinisha Roweth reports:
Last Sunday ran smoothly, doing the new course around Bloomfield golf course, with the rain mainly holding off while we got our runs and walks in. It was great to see many members completing the 14km as part of the virtual City2Surf. A massive thank you to Merv's coffee van for turning up to supply us with post-run beverages. We would like to also thank Brian Penrose: most Sundays he takes his time to complete his distance while he carries his camera and gets amazing action shots of everyone during the event.
The leading runners over the distances were:
3.5km – Female – Claire Gates 21:49, Julie Fitzpatrick 22:19, Juliette Kuegler 23:57.
Male – Mike Cooper 17:24, Georgie Hogg 22:04, Tony Fitzpatrick 22:07.
7km – Female – Alicia Ross 36:25, Karen Mudge 40:43, Bridget Cockburn 43:07.
Male – Iain McLean 29:03, Lachlan Ross 36:25, Steven Wensley 40:12.
10.5km – Female – Leanne Corcoran 49:55, Ayako Kusui 55:22, Jane Fairgrieve 1:10:41.
Male – Warwick Blackwell 48:45, Eddie Feeney 49:38, Alistair Merrifield 53:05.
14km – Female – Kinisha Roweth 1:19:08, Alicia Anlezark 1:19:24, Alison Spurway 1:21:06.
Male – Sam Harma 1:00:38, Brad Simmons 1:06:03, Daryl Roweth 1:06:54.
At Elephant Park on Wednesday night, we had a massive 70 members completing 1, 2 or 3 laps.
Top 3 for the males this week were: Peter Finlay 10:32, Iain McLean 11:09 and Joel Broadfoot 11:30. Top 3 for the female runners we had Leanne Corcoran 11:50, Lily Craig 13:23 and Kinisha Roweth 13:24. Five PBs were made this week, three of them being from the Hill family with Hamish taking off 4 minutes and 39 seconds, Benjamin also taking off a big 3 minutes and 52 seconds, and Madeline knocking off 1 minute and 31 seconds. The other two PBs were made by Charlotte Meiring knocking off 15 seconds getting down to 13:56 and Mark Thomas heading 17 seconds down to 12:53.
We had two members pick up achievement medals this week: Brad Tyack racking up 50 runs and Ayako Kusui getting up 25 runs. Congratulations you two and we are looking forward to see more running memories built up in the future.
Our last Sunday Club run for the month of October is at Jack Brabham with a choice of 1 to 6 laps (each lap being 1.75km). Please keep an eye on the facebook page and your emails in case this is changed. Please continue to follow the recommendations of essentially arriving, running and then going home, minimising the social contact. You can start your run between 8:30 and 9am.
Upcoming Sunday Club runs:
November 1 – Highland Heritage
November 8 – Pinnacle including the Volcanic Challenge
November 15 – Stagecoach Road
November 22 – Gosling Creek
November 29 – Lake Canobolas
Good luck to those members heading over to Bathurst this Sunday to partake in the Panorama Punish!
Race briefs/announcements/presentations are still cancelled– this will instead be done via email and on the facebook page.
Continue to check the website, facebook and watch your emails for more information on all club activities and news.
Information provided by Kinisha Roweth.