CWD 31st October 2020
When you join Orange Runners Club we assure you that you will make some lifelong friends and great running buddies.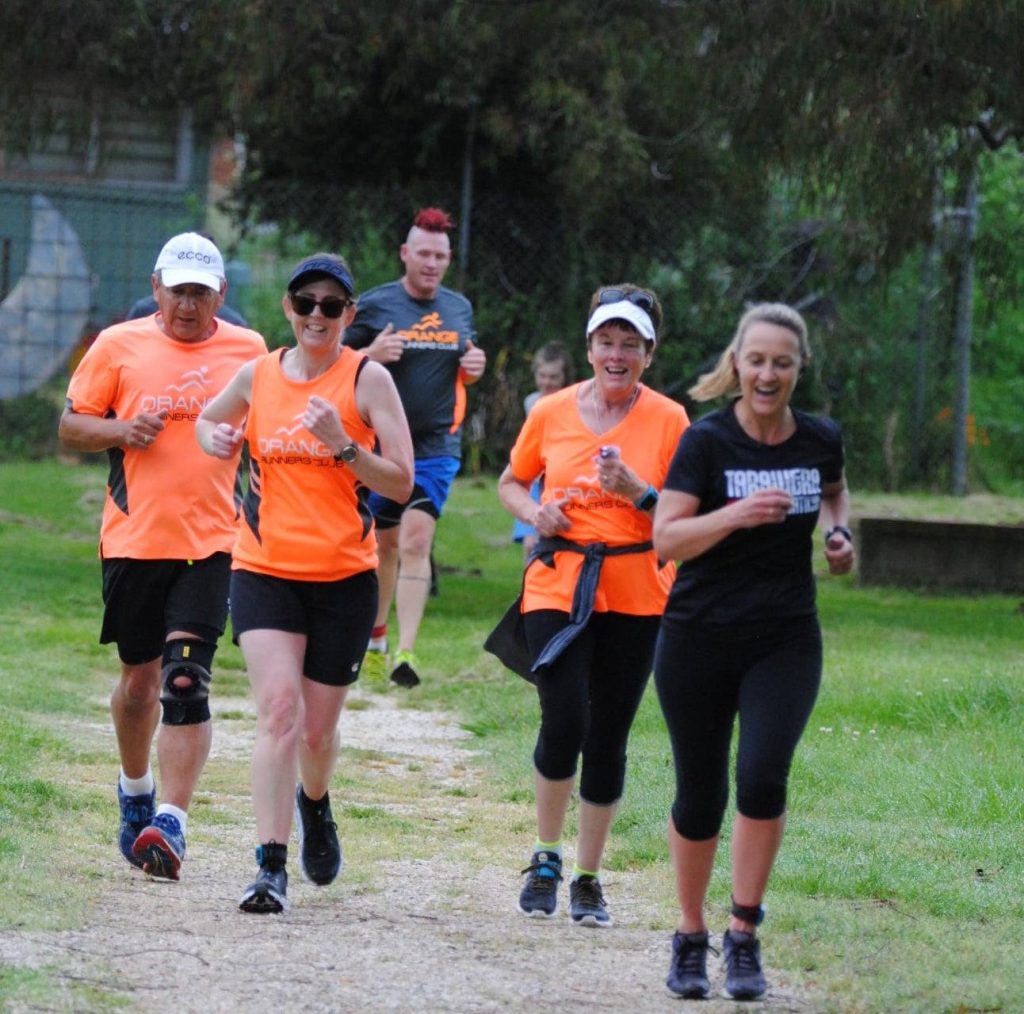 Kinisha Roweth reports.
Considering the rainy weather we had last Sunday, I was very impressed with the number of runners that still came out to Jack Brabham to have a run. An amazing 32 members got out there and got wet!
The leading runners over the distances were:
1.75km – Female – Melissa Fogarty 18:20, Justine Neville 22:32, Judy Tarleton 22:41.
Male – Michael Sharp 9:26, John Hannan 15:30.
3.5km – Female – Kinisha Roweth 18:00, Claire Gates 20:33, Seana Smith 35:35.
Male – Craig Penrose 20:41, Gary Taylor 23:05, Stefan Kuegler 35:52.
5.25km – Female – Leanna Corcoran 23:53, Juliette Kuegler 34:36, Kim Roweth 36:27.
Male – Peter Finlay 20:40, Peter Hyde 25:12, Tony Fitzpatrick 26:36.
7km – Female – Anna Daintith 52:56.
Male – Basil Baldwin 47:03.
8.75km – No one took up the option of 5 laps
10.5km – Female – Come on ladies.
Male – Tim Edmonstone 50:43, Hugh Daintith 51:25, Anthony Daintith 51:27.
Some members participated in the Panorama Punish in Bathurst on Sunday with some very speedy results for such a tough course. Congratulations to the following members who placed in the top 5 in their age groups:
Sam Collins 24:05 – 4th in Male 19-39 years
Iain McLean 26:11 – 1st in Male 40-49 years
Warwick Blackwell 27:14 – 4th in Male 40-49 years
Mike Cooper 31:46 – 2nd in Male 60+
Alicia Anlezark 33:49 – 1st in Female 40-49 years
Kim Jarvis 37:56 – 5th in Female 50-59 years
Maree Moss 41:21 – 3rd in Female 60+
Anne-Maree Ryan 45:42 – 4th in Female 60+
At Elephant Park on Wednesday night we had 22 members brave the rain and complete 1, 2 or 3 laps. Depending what time you were there some members got saturated but all who ran practised their steeplechase skills with many large puddles covering the track.
Top 3 for the males this week were: Peter Finlay 10:35, Alistair Merrifield 12:36 and Anthony Daintith 12:49. Top 3 for the Female runners we had Karen Mudge 14:48, Kinisha Roweth 15:11 and Kim Jarvis 15:40. One lucky PB was made on this wet Wednesday, Nikki Grant knocking off 3 seconds, getting down to 16:33.
Upcoming Sunday Club runs:
November 1 – Highland Heritage
November 8 – Pinnacle including the Volcanic Challenge
November 15 – Stagecoach Road
November 22 – Gosling Creek
November 29 – Lake Canobolas
Get your nominations in for runner of the year and junior runner of the year – there is only one week until nominations close. Hand your completed forms to a committee member.
Race briefs/announcements/presentations are still cancelled – this will instead be done via email and on the facebook page.
Continue to check the website, facebook and watch your emails for more information on all club activities and news.
Information provided by Kinisha Roweth.