CWD 7th November 2020
David Ross and Iain McLean enjoying their run through Highland Heritage last weekend.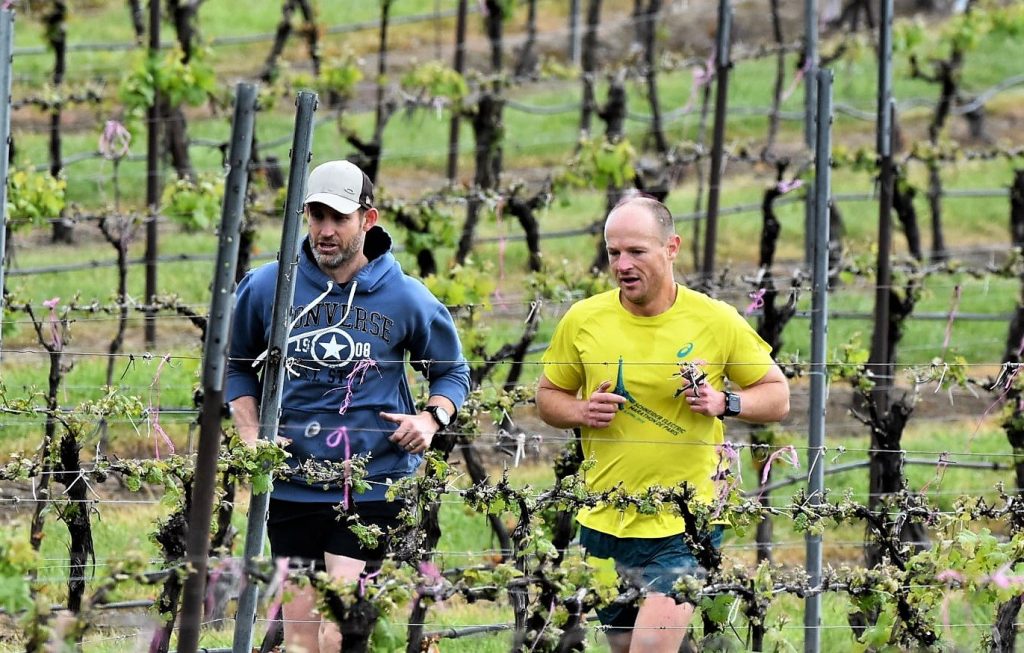 Kinisha Roweth reports:
It was a lovely Sunday out at Highland Heritage last weekend. Although the skies were cloudy, everyone commented about how humid it was. Members had the choice to do 1 to 5 laps around a 2km course amongst the vines.
The leading runners over the distances were:
2km – Female – Melanie Lund 14:15, Justine Neville 17:43, Emily Blore 18:18.
Male – Mike Cooper 9:21, Michael Sharp 10:29, Craig Penrose 10:48.
4km – Female – Claire Gates 22:57, Sally Postma 24:36, Kim Roweth 26:13.
Male – Clive Blore 17:45, Jared Sullivan 18:04, Lachlan Ross 21:07.
6km – Female – Alicia Ross 28:36, Kinisha Roweth 28:37, Karen Mudge 31:31.
Male – Peter Finlay 23:13, Mark Thomas 26:49, David Craig 29:30.
8km – Female – Jess Pooley 39:03, Anna Daintith 1:10:42.
Male – Iain McLean 43:24, Richard Hogg 44:10, Brian Rix 51:16
10km – Female – Nicola Blore 52:35, Sarah Passey 1:00:34, Wendy Chapman 1:01:21.
Male – Chris Pooley 37:32, Sam Harma 38:51, Eddie Feeney 42:36.
At Elephant Park on Wednesday night, we had 79 members complete the 1, 2 or 3 laps.
Top 3 for the males this week were Peter Finlay 10:34, Iain McLean 10:54 and Alistair Merrifield 12:29. Top 3 for the Female runners we had Leanne Corcoran 11:47, Alicia Anlezark 13:33 and Karen Mudge 14:39. Sarah Passey was flying this week, achieving a 28 second PB, knocking her time down to 15:32.
Congratulations to Oscar Meek for achieving 50 runs, collecting his medal on Wednesday. Looking forward to you continuing to build up your runs with us.
Next Sunday's club run is out at Pinnacle, the normal 3, 5 and 10km distance options (slightly different courses) will be marked out. For the more adventurous, we are running the Great Volcanic Mountain Challenge being the distance of 11km. Runners wanting to do the GVMC course will need to email Jean and Basil Baldwin at baldwins2424@gmail.com before 8pm on Saturday to get entered into their timing system. If you are doing the GVMC, please do not where your ORC timing chip as you will get a special device from the Baldwins. You must start the GVMC between 8:30 and 8:45 and will have to make your own way back down to the Pinnacle car park from the top. There will be no drinks or marshalling on the course so please be prepared for these conditions.
Upcoming Sunday Club runs:
November 15 – Stagecoach Road
November 22 – Gosling Creek
November 29 – Lake Canobolas
Last chance to hand your nominations in for runner of the year and junior runner of the year. Please hand your completed forms to a committee member at tomorrow's run.
Race briefs/announcements/presentations are still cancelled– this will instead be done via email and on the Facebook page.
Continue to check the website, Facebook and watch your emails for more information on all club activities and news.
Information provided by Kinisha Roweth.