CWD 28th November 2020
Father and son, Gareth and Nick Thomas at last Sunday's run at Gosling Creek.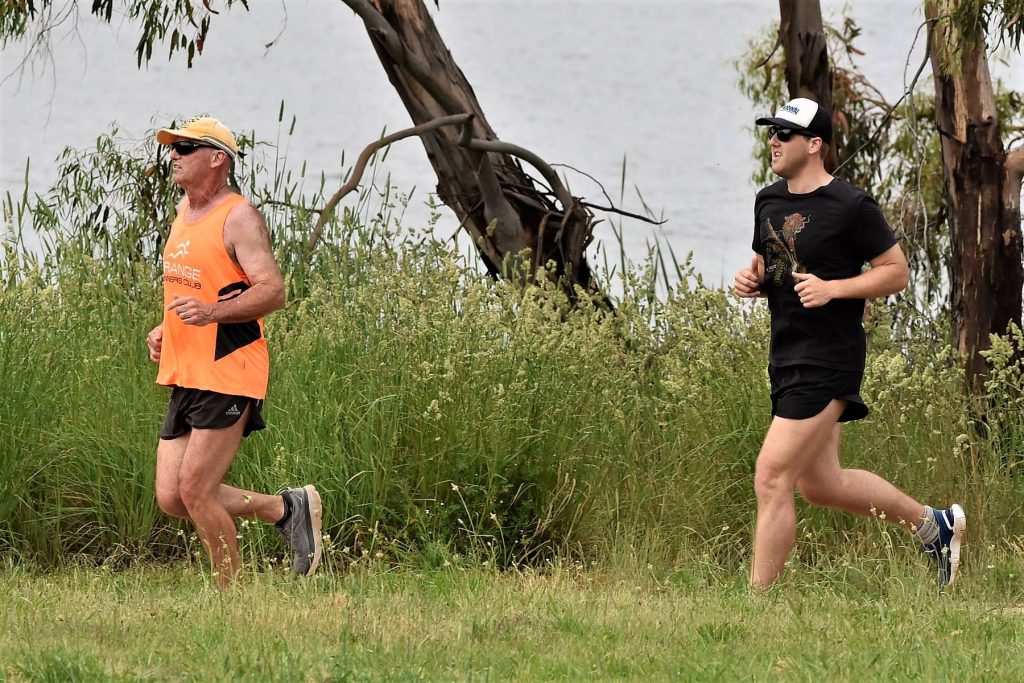 Kinisha Roweth reports:
It was great to see so many members riding their bikes out to Gosling Creek, for last Sunday's club run. 52 members made it to the start line, for a Sunday stroll in the park.
The leading runners over the distances were:
2.3km – Female – Charlotte Meiring 12:44, Emily Meiring 14:03, Julie Hudson 16:25.
Male – Nick Irwin 13:14, Trevor Jones 15:14, Lachlan Irwin 20:31.
4.6km – Female – Leanne Corcoran 21:05, Bridget Cockburn 26:34, Sarah Passey 28:50.
Male – Peter Finlay 18:00, Mike Cooper 22:26, Peter Regan 25:18.
9.6km – Female – Ayako Kusui 49:55, Alicia Anlezark 52:50, Alison Spurway 57:17.
Male – Sam Harma 41:15, Jack Taylor 45:42, Mark Thomas 47:51.
We had 78 members turn up to Elephant Park on Wednesday, completing 1, 2 or 3 laps. Top 3 for the males this week were Chris Pooley 9:49, Rikky Bangert 10:22 and Peter Finlay 10:31. Top 3 for the Female runners we had Leanne Corcoran 11:33, Skye Napier 13:09 and Alicia Anlezark 13:41. On Wednesday, we had a massive 13 members achieve a PB, which is incredible and also calls for a list. PBs were: Kim Roweth knocked off 4 seconds; Skye Napier knocked off 56 seconds; Tim Napier sliced off a massive 5 minutes and 27 seconds; Benjamin Hill taking off 31 seconds; Madeline Hill 57 seconds down to 17:18; Yonneka Hill 5 seconds down; Thomas Carter taking off a big 2 minutes and 9 seconds; Mark Thomas knocking off 28 seconds; Clive Blore 14 seconds off, Nikki Grant another 4 seconds off; Belinda Feeney zipping off 1 second and Eddie Feeney 4 seconds lower. The 13th PB was achieved by newish member Chris Pooley – I must say in his first EP run he took a couple of his laps a little further than the usual, heading down towards the pool. So, this may justify his 5 minute and 32 second PB, getting down to a flying 9:49.
This Sunday's run is at Lake Canobolas with a 2.5km lap. You can choose to do 1 to 5 laps (so 2.5km, 5km, 7.5km, 10km). Reminder that you must start your run between 8:30 and 9am.
Upcoming Sunday Club runs:
December 6 – Shiralee
December 13 – Botanic Gardens
December 20 – Elephant Park
December 27 – Bargwanna Road
You have until Friday the 4th of December to book for the Christmas party. The numbers are limited, so you must book and pay for you/ family in advance. Head to https://www.registernow.com.au/secure/Register.aspx?E=41584
Race briefs/announcements/presentations are still cancelled – this will instead be done via email and on the Facebook page.
Continue to check the website, Facebook and watch your emails for more information on all club activities and news.
Information provided by Kinisha Roweth