CWD 5th December 2020
Orange Runners Club President, Mike Cooper, who was recently recognised for completing 800 club runs, enjoying the run around the lake on Sunday.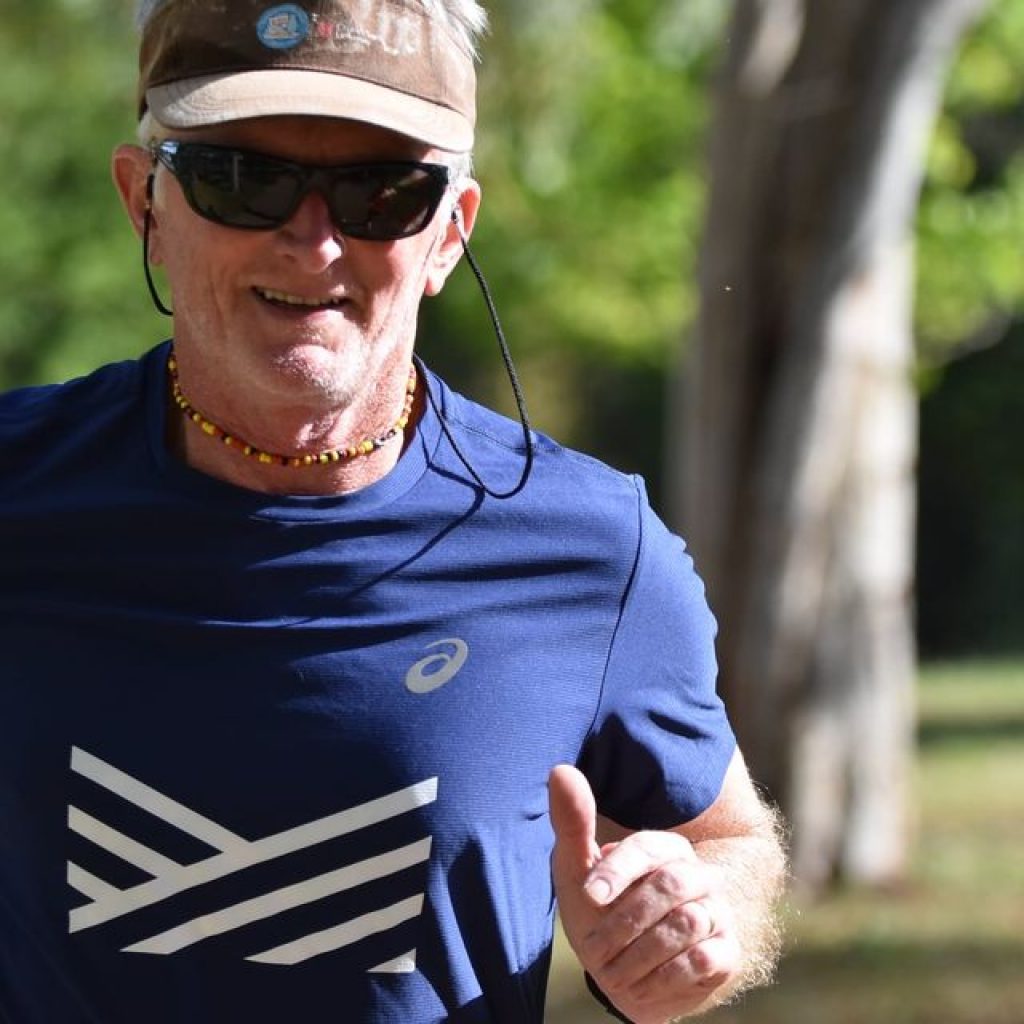 Kinisha Roweth reports:
On a warm and slightly windy Sunday morning out at Lake Canobolas, 57 runners and walkers took to the 2.5km track around the lake. Many ORC members enjoyed a coffee, milkshake or a splash in the water after the run.
The leading runners over the distances were:
2.5km – Female – Stacey Yaroslavceff 20:08, Lyn Rummery 21:21, Justine Tarleton 26:28.
Male – Michael Sharp 13:44, Craig Penrose 14:14, Trevor Jones 16:16.
5km – Female – Bec Davis 27:35, Karen Mudge 29:17, Claire Gates 33:37.
Male – Peter Finlay 20:15, Iain McLean 21:00, Rikky Bangert 22:11.
7.5km – Female – Jane Fairgrieve 50:15, Karen Skelton 56:57, Anna Daintith 58:53.
Male – Brad Simmons 36:32, Warwick Blackwell 36:51, Fred Bangert 36:52.
10km – Female – Leanne Corcoran 48:31, Ayako Kusui 52:16, Kim Jarvis 1:07:16
Male – Daryl Roweth 50:13, Peter Hyde 50:43, Anthony Daintith 54:39.
Wednesday afternoon at Elephant Park saw a slightly cooler temperature and solid times around the track. 70 starters completed between one and three laps with the fastest runners being Peter Finlay 10:29 and Leanne Corcoran 11:48. Hot on their heels were Eddie Feeney 11:58 and Brad Simmons 11:59. Completing the top three ladies were Lily Craig 12:52 and Alicia Anlezark 13:35.
This week Personal Bests were recorded by: Michael Sharp 18s, Yonneka Hill 10s, Madeline Hill 7s, Benjamin Hill 18s, Eddie Feeney 2s and Kim Roweth 21s.
Recent members to receive milestone awards were Kim Roweth 700 runs, Trevor Jones 75runs, Peter Hyde 75runs, Hayden Hyde 50runs, Claire Gates 100runs, Mike Cooper 800runs and Julie Tooth 50runs.
This Sunday's run is at Shiralee with 4km laps. A reminder, that you must start your run between 8:30 and 9am.
Upcoming Sunday Club runs:
December 13 – Botanic Gardens
December 20 – Elephant Park
December 27 – Bargwanna Road
Race briefs/announcements/presentations are still cancelled– this will instead be done via email and on the Facebook page.
Continue to check the website, Facebook and watch your emails for more information on all club activities and news.
Information provided by Kinisha Roweth.