CWD 9th January 2021
Finally got Brian Penrose on the other side of the camera for a photo with his 600 club runs medal.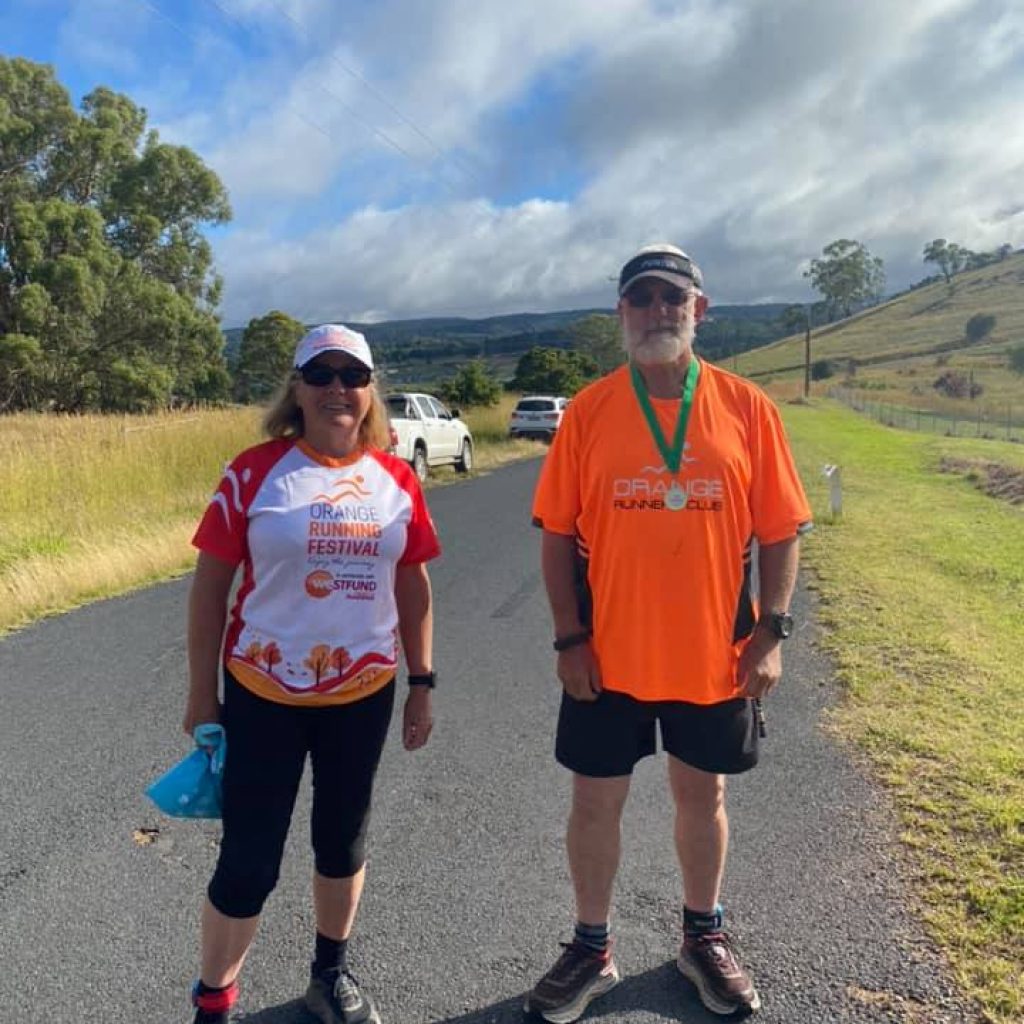 Kinisha Roweth reports:
Last Sunday, we had 68 runners/walkers come along to Bulgas Road for the beautiful country run admiring the scenery. It is great to see Jack Daintith running well again, even setting a course record for the 7.5km distance at Bulgas Road.
The leading runners over the marked-out distances were:
3km – Female – Alicia Anlezark 17:18, Stacey Yaroslavceff 22:21, Helen Roberts 30:01.
Male – Trevor Jones 20:08, Peter Regan 28:00, John Hannan 29:14.
5km – Female – Hannah Chapman 29:48, Wendy Chapman 30:06, Jane Fairgrieve 32:11.
Male – Peter Finlay 20:10, Logan Whiteley 24:38, Hugh Daintith 25:22.
7.5km – Female – Anna Daintith 1:00:56.
Male – Jack Daintith 36:33, Peter Hyde 39:49, Mike Cooper 41:28.
10km – Female – Ayako Kusui 55:44, Kim Jarvis 1:06:09, Sarah Passey 1:07:26.
Male – Connor Whiteley 44:28, Iain McLean 44:29, Mark Thomas 47:11.
Wednesday afternoon at Elephant Park saw 69 members turn up to run or walk, burning off some more Christmas food in the humid weather. Top three males were Brad Simmons 11:32, Mark Thomas 11:52 and Eddie Feeney 12:08. Completing the top three ladies were Leanne Corcoran 13:24, Lily Craig 13:34 and Ursula Wilson 13:45.
Personal Bests this week were recorded by: Will Miller 9s, Richard Hogg 3s, Phillip Mudge 18s, Kate Evans 1m12s and Karren Skelton 3s.
A big congratulations to Brian Penrose on achieving 600 runs! Every Sunday run, Brian puts off going hard to get his camera out and capture amazing pictures of everyone out on the tracks. Congrats and thank you Brian for being an awesome club member, you are very appreciated.
Tomorrow's run (10 January) is at Berrilee Road with 4km, 8km and 12km distances to be marked out. This week president Coop will also be trialling a 2km distance for Berrilee Road if you are interested in that distance. Also putting out a reminder, that we are still operating under COVID-19 regulations. On Wednesday's, you need to start and finish your laps between 4pm and 5.45pm. On Sunday's, you must start between 8.30am and 9am. On both days still encouraging members to arrive, run and depart.
Upcoming Sunday Club runs:
January 17 – Clergate
Race briefs/announcements/presentations are still cancelled– this will instead be done via email and on the Facebook page.
Continue to check the website, Facebook and watch your emails for more information on all club activities and news.
Information provided by Kinisha Roweth